In A Buyer's X Ray Vision?
By
How high is high? In the case of OEC Medical Systems (OXE), some stakeholders think the stock has yet to reach its full potential--although it has risen from 6 a share in early 1995 to more than 16 on Mar. 18. They argue that OEC is undervalued, considering the company's premier position in its field.
One major investor thinks OEC has "become too attractive and cheaply priced to remain independent for long." Management is believed to have rejected as too low a 15-a-share offer when the stock was trading at around 8. Before long, he says, another offer will come along from a major medical-device maker. In a buyout, he figures the stock is worth 30 a share. OEC posted record operating results in the fourth quarter last year and for all of 1996.
OEC makes computer-based medical instruments, primarily X-ray imaging systems. In greatest demand is the Series 9600 cardiac fluoroscopic mobile imager, used to guide the placement of catheters and to perform coronary angiography--to confirm procedural results while a patient is still in the operating room.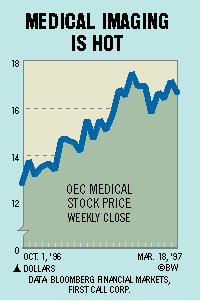 The recent surge in minimally invasive cardiac surgery has created a huge demand for mobile X-ray systems. "OEC will be a primary beneficiary--with the two exclusive agreements it has just signed with CardioThoracic Systems and Heartport," says Fred Toney, an analyst at Pacific Growth Equities, a San Francisco investment firm.
CardioThoracic and Heartport are the leaders in such techniques. OEC will equip the two companies' training sites for surgical bypass worldwide with its imaging system. The company's "momentum in the cardiology-imaging market, solid growth of more than 20% on the top and bottom lines, and strong market share of 50% in the U.S. and 15% internationally make OEC a compelling investment," says Toney. Based solely on fundamentals, he thinks the stock should hit 27 in a year.