Going To The Rescue Of Oaxaca's Past...In Order To Beautify Its Future
Geri Smith
Rodolfo Morales shuffles slowly but proudly through a 16th century Franciscan monastery in the southern Oaxacan town of Ocotlan. Four restoration experts perch atop scaffolding, retouching delicate frescoes. Other artisans are using a mixture of clay, limestone powder, and the sticky juice of nopal cactus to paint a natural sheen on the stone walls. Morales, 71 and one of Mexico's best-loved painters, is spearheading an effort to rescue the crumbling buildings and turn them into a museum and concert hall. "I don't know if any of my paintings will be around a century from now, but this monastery will be," he vows.
The painter has turned restorer partly out of love for Mexico's past--but also out of concern for its present. Oaxaca, a mountainous region with 3.3 million inhabitants, is one of Mexico's poorest states. In fact, when President Ernesto Zedillo Ponce De Leon took office two years ago, he said that one measure of his administration's success would be the fight to reduce poverty in Oaxaca. That promise took on a new urgency last year, when guerrillas from a newly formed group called the People's Revolutionary Army staged several attacks on police and army installations in the state.
STALLED OUT. The Oaxacan economy depends on fishing, mining, and primitive agriculture. To create more opportunity, the government has promoted the installation of 20 export-oriented factories and in 1994 designated the capital city of Oaxaca and the valleys surrounding it as an area for high-priority tourism development. But then the devaluation hit in December, 1994, stalling most initiatives.
That's where "Maestro" Morales comes in. Having toiled most of his life as a public-school art teacher, Morales retired in 1985, began painting full time, and soon built an international reputation. His vibrantly colored canvases depicting dreamlike Oaxacan scenes and landscapes sell in California and New York for as much as $150,000, and he donates most of the proceeds to the Rodolfo Morales Cultural Foundation, which spruces up Oaxaca's treasures and funds projects such as putting computers in local schoolhouses. The foundation is restoring colonial-era churches and abandoned monasteries in seven different Oaxacan towns, including Ocotlan.
Morales thinks planners should focus not just on factories and beaches but on Oaxaca's greatest strength: its intricate handicrafts, native dances, and unusual cuisine. "Our heritage is so precious," he argues, "that if you could put a price tag on it and sell it, Mexico would be a world economic power." He envisions a tourism corridor running from the Oaxacan capital through a series of small towns, each known for a local craft: black pottery, hand-woven rugs, painted wooden animals, and delicate clay figurines. The region is rich in pre-Columbian archaeological sites, such as the famous Monte Alban.
Oaxacan officials, at least, are listening: "Maestro Morales' idea is a good one," says state tourism chief Luis Barrera Lavin. "There are very few [Mexican] regions with this wide a variety of culture and handicrafts." But for the moment, with government budgets parched, the Morales Foundation must lead the way.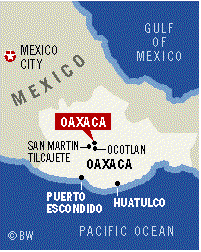 Many tourists, of course, have already discovered the charms of Oaxaca. More than 600,000, nearly one-third of them foreigners, visited the state last year, up 15% from 1995. Art buyers from the U.S. haul truckloads of handicrafts back home for resale at premium prices. The result: In San Martin Tilcajete, population 3,000, some of the rustic adobe homes now feature satellite dishes and flush toilets. Whole families earn a livelihood creating the painted wooden animals the town is known for.
But that has led to a new problem: The wood carvers are using up the few remaining stands of copal trees. So the Morales Foundation recently financed the planting of 7,000 trees around San Martin for future generations of carvers. Morales also persuaded the army to lend him troops to plant a five-mile stretch of his envisioned tourism corridor with purple-flowered jacaranda trees--thus adding a splash of color to the sere Oaxacan countryside. As beautiful as Morales' paintings are, this one may be his masterwork.
Before it's here, it's on the Bloomberg Terminal.
LEARN MORE