business
Commentary: Buffett Sounds Bearish But His Portfolio Is Bullish
Greg Burns
If jawboning about "irrational exuberance" can't sink the market, the Oracle of Omaha doesn't stand a chance. Sure, just like Federal Reserve Chairman Alan Greenspan, billionaire Warren E. Buffett is preaching caution: The stock market is "overheated," and the risk of overpaying is "quite high." Even top companies are probably overvalued, Buffett warns in the 1996 annual report of his holding company, Berkshire Hathaway Inc.
Just one problem: Buffett shows no signs of heeding his own counsel. If the market is so precarious, why not throw tax consequences to the wind and sell some of Berkshire's $28 billion stock portfolio to lock in its steep gains? Instead, Buffett has been a buyer. Last December, Berkshire paid $1.5 billion in cash and stock for publicly traded FlightSafety International Inc. And over the previous five quarters, he tripled his holdings in McDonald's Corp.--a stock so clearly a barometer of market sentiment that it's one of the 30 stocks making up the Dow Jones industrial average. As of yearend, he owned 4.3% of McDonald's, worth about $1.3 billion.
JUICIER BURGER. Indeed, in just the past few weeks, Buffett has had a tempting opportunity to up his stake in McDonald's. On Mar. 3, three days after Buffett signed his letter complaining about high stock prices, McDonald's sank to 42 1/2, its lowest price since last summer. But by Mar. 19, investors taking note of Buffett's expanded interest in hamburgers had driven the stock up to 47 1/2.
Buffett's current position is more offensive than defensive. While portfolio managers typically expand their cash holdings when they run out of opportunities, Buffett held half as much cash at yearend '96 than he did the year before. That's consistent with some of his past statements about putting money to work: At the 1994 annual meeting, he told shareholders he considers a growing cash position "an index of failure." His bond holdings have soared, but that's mainly because Berkshire acquired a fixed-income portfolio with the Jan. 2, 1996, acquisition of the 49% of insurer GEICO Corp. that it didn't already own.
Buffett-watchers expect him to shift much of that bond holding into equities. But even with the recent downdraft in the tech sector, don't expect Buffett to nibble at tech stocks. For years, he has advised against investing in a sector that he considers too risky. He is, however, on the lookout for a friendly acquisition of up to $5 billion.
In truth, when it comes to market forecasting, Buffett should be taken with a ton of salt. Keep in mind, he has made no secret of his disdain for market timers. He has told investors in the past that he never has an opinion on the market at large. And the last time he took a flier, he got it wrong, predicting in 1992 that the market would perform poorly for the rest of the decade. In spite of his downbeat statement, by the way, he stayed heavily invested in stocks then, as now. Perhaps Buffett is merely voicing the sentiment of many value-oriented investors who wish for a downturn so they can buy at distressed prices.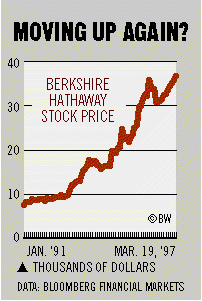 LUKEWARM. For Berkshire investors, a natural question arises: Are the company's shares among those Buffett considers too pricey? Certainly, Berkshire stock seems far from overheated. In the past 12 months, while the broader market soared more than 20%, Berkshire stock is not much higher than where it was early last year (chart). Part of the reason for its underperformance was a strong gain in 1995, followed by Buffett's warning in last year's letter to shareholders that the stock had gotten so far ahead of itself he wouldn't buy it.
What about this year? Since much of the company's value stems from stakes in such highfliers as Coca-Cola Co. and Gillette Co., a toppy market would seem to put Berkshire at risk. Yet in his latest epistle, Buffett sings a happier tune, saying the stock lagged behind its underlying businesses in '96, and its valuation is "more appropriate" than in 1995. Could be that Berkshire's a buy, and the market is, too--in spite of Buffett's protestations.
Before it's here, it's on the Bloomberg Terminal.
LEARN MORE