A Biotech With Testosterone
By
If you don't believe biotechs are back, take a gander at the sizzle of Bio-Technology General (BTGC): Its stock shot from 5 a share on Apr. 10, 1996, to 17 3/4 on Feb. 20, 1997. Profit-taking nudged it down to 14 1/8 by Mar. 18.
Time to bail out or avoid the stock? Not by a long shot, says one money manager who has been buying each time the stock turns down. And some analysts, whose price targets for Bio-Technology have been pierced, continue to be bullish on the company.
"We are raising our 12-month price objective from 16 to 20," says analyst Paul Woodhouse of Merrill Lynch, in part to accommodate an improvement in earnings. He had a price objective of 12 when the stock was at 7 in November and then raised it to 16 in January when it hit 12.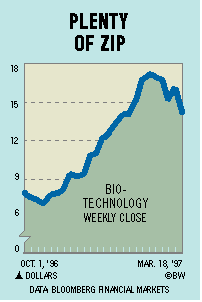 Bio-Technology is "one of the most exciting earnings and investment stories in the Merrill Lynch drug stock universe," says Woodhouse. The company moved into the black in 1995 when it introduced its first major product, Oxandrin, used for the treatment of involuntary weight loss brought on by cancer, AIDS, or severe trauma. He projects sales of Oxandrin of $39 million in 1997 and $60 million next year. The product, he says, will be the company's main growth engine for the next two years. Another product selling well, says Woodhouse, is Bio-Tropin, a hormone for treating growth disorders.
New products include: Androtest-SL, testosterone that is taken orally for treatment of impotence, poor muscle development, and bone loss, already submitted to the Food & Drug Administration for approval; and OxSODrol, in its third clinical trials, for the prevention of the severe lung ailments that affect 30% of premature babies.
Woodhouse expects Bio-Technology to make 44 cents a share in 1997 and 76 cents in 1998, up from last year's 26 cents.