Will This Formula Maker Stay Adorable?
Nutricia is healthy now, but its Third World bet is risky
William Echikson and Heidi Dawley
It was every baby food maker's nightmare. Early this year, a dozen British toddlers developed symptoms of salmonella poisoning. Doctors found that 10 of the babies had been fed a special Milumil infant formula made by Netherlands-based Nutricia. Even though no salmonella was found in any of its milk, Nutricia recalled all of the product in Britain. "You can never win by getting into a fight with authorities over the health of babies," says Nutricia Chief Executive Johannes van der Wielen. The British government let Milumil back into stores two weeks ago. The company's sales barely hiccuped.
Indeed, Nutricia has been a star performer on the Amsterdam exchange (chart). When he announces 1996 results on Mar. 27, CEO van der Wielen expects a 50% earnings increase over 1995, on sales of about $1.6 billion. But observers are divided over the company's future. Optimists see effortless growth as Nutricia moves into high-birthrate countries in Eastern Europe, Asia, and South America. Skeptics, meanwhile, see a company that still has 90% of its sales in Europe, its earnings temporarily boosted by the successful takeover of a German competitor in 1995. And they have doubts about the prospects of a small Dutch player in emerging markets, where it faces competition from such well-known powerhouses as Nestle.
So far, Nutricia has drawn accolades usually reserved for far bigger, global companies. It began more than a century ago as a milk producer in the town of Zoetermeer, 14 kilometers east of The Hague, now a soulless concrete jungle. Corporate headquarters still are located there, in a four-story building squeezed between a six-lane highway and a prison.
In the 1970s, Nutricia embarked on a disastrous diversification into mass-market consumer foods. "We made onions, pickles, sauces, chips," says van der Wielen with a grimace. A trained chemist, he joined the family-run company in 1980 and became the first nonfamily CEO in 1992. By then, most of the consumer food subsidiaries had been sold off, and van der Wielen focused instead on infant formula and intravenous food products for seriously ill patients.
Analysts have been enchanted with the strategy. Because it sells through pharmacies and answers to national health agencies, some now claim that Nutricia resembles a pharmaceutical company more than a consumer goods company. Says David Kerstens of ABN AMRO Hoare Govett: "This is a high-tech stock with high margins."
Nutricia's masterstroke came in October, 1995, when it acquired its lagging German competitor Milupa. With annual sales of $700 million, Milupa was top-heavy, and it was spending far too much on research and too little on marketing. The purchase made Nutricia strong for the first time in Germany and southern Europe and gave it a dominant market share of about 40% in infant formula. By cutting costs fast--400 Milupa managers were forced out--Nutricia saw a profit payoff 18 months sooner than forecast.
VIOLATIONS? Nutricia's problem now is what to do for an encore. Selling infant formula is a sensitive business in the Third World. In the 1980s, Nestle faced damaging boycotts protesting its methods of pushing infant formula on emerging-market mothers. Although the Swiss dairy giant and Nutricia have agreed to follow a World Health Organization protocol that bans advertising and free samples, the London-based International Baby Food Action Network recently cited both companies for violations. Nutricia's van der Wielen counters that the company targets babies being weaned after six months, not newborns.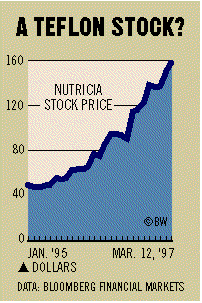 On top of the controversy over emerging-market sales, some analysts wonder if Nutricia's stock isn't overpriced. "The market seems to be confusing cost savings from the Milupa acquisition with real growth," says Richard Newboult of Lehman Brothers in London. But van der Wielen insists that Nutricia's 15% earnings growth can continue even after Milupa is digested. He believes its heavy investments in emerging markets, such as the takeover of a Hungarian dairy in early March, will pay off in a strong niche.
So far, Nutricia has adroitly managed the risks of selling baby milk in the developed world. But the jury's still out on whether it can play with the big kids in emerging markets.