U S West Can't Take Its Eyes Off Tv
The Baby Bell plows into cable as rivals scale back
by and
Bell Atlantic Corp. left Tele-Communications Inc. at the altar in 1994. Nynex Corp.'s $1.2 billion investment in Viacom Inc., made in 1993, has been a strategic bust. And Tele-TV, the consortium of phone companies that intended to offer TV content over wires they owned, is being shuttered. Indeed, most of the boasting by cable and telephone companies about the powerful convergence of the two industries has faded. It is now just another stale fad from the early 1990s.
Then there's U S West Inc. Based in Englewood, Colo., the Baby Bell, which provides phone service to about 25 million customers in 14 western states, has never moved its sights from the goal it set in 1992: to become a force in cable television, offering customers in selected cities highly integrated telephone, data, and TV services with full interactive capabilities.
Even as most of their peers have developed deep doubts about whether it makes sense for a phone company to own cable systems, U S West executives have made the company the third-largest cable operator in the U.S. All told, U S West has spent $12.5 billion to buy systems with nearly 5 million subscribers. And it plans to spend at least $3 billion more by the end of 1999 to make these systems the most sophisticated in the country. "This is the right time to invest in a very powerful network," says Charles M. Lillis, president of U S West Media Group, a separately traded entity that holds the bulk of U S West's cable assets. As other cable companies struggle with financial constraints and other Baby Bells focus on getting into long distance, U S West's strategy sets it apart. Lillis relishes running the only company hewing to this course: "We'll have a lot of years without much competition."
And U S West's cable holdings could soon grow to rival industry leader TCI's. In 1993, U S West paid $2.6 billion for a 25.5% stake in Time Warner Entertainment Co., a subsidiary of Time Warner Inc. that owns the bulk of its cable systems, its Warner Bros. movie studio, and its Home Box Office pay-cable network. The relationship with Time Warner has long since soured over control and other issues, and the two companies now are negotiating a parting of the ways that will likely hand control of some portion of Time Warner Entertainment's roughly 10 million subscribers to U S West.
HURDLE. The deal's structure is certain to be nightmarishly complicated. U S West's stake now is valued at more than $4 billion, and the company is keen to get control of the Time Warner systems. The big stumbling block in reaching a deal is how much U S West will be willing to shoulder of Time Warner Entertainment's nearly $6 billion debt load. "Our balance sheet is not for rent," says U S West Chairman Richard D. McCormick. "We're not going to be the debt solution for Time Warner."
U S West Media Group became a separately traded stock in late 1995, and its shares have managed to remain fairly flat since then, vs. an overall downturn in the stock prices of other cable companies. But the company's rising debt load and interest payments have forced its once robust earnings into the red. For now, though, there are few worries. "This is a very healthy cable company," says Geoffrey Johnson, an analyst with investment group Gabelli & Co. "They can definitely afford to take some of the Time Warner debt if it came with the right cable assets."
As a major cable company, U S West has a tremendous edge over its competitors: It is well capitalized thanks to its core phone business and has massive clusters of customers in highly desirable areas. Following its recent acquisition of Continental Cablevision Inc., U S West now sends either phone or cable bills to nearly 20% of America's homes, many in such large urban areas as Boston, Chicago, Atlanta, and Los Angeles. With Time Warner's assets, the company would virtually blanket Ohio, Florida, and New England, giving it access to 60 of the top 100 U.S. markets.
BIG SPENDER. With those kinds of regional clusters, U S West has the geographic concentration of subscribers as well as the money necessary to do what giants such as TCI can't manage--roll out expensive new services, such as cable modems and digital settop boxes that can deliver up to 500 channels of TV and movies on demand. Then there's the big prize: With wires already in place, U S West could go toe to toe with other telephone companies in local and long-distance service far from its own service territory.
To get there, U S West can spend amounts of money that financially strapped cable companies can only dream about. After raising $4.1 billion in debt recently, U S West Media Group can easily afford the $1.2 billion in system upgrades it plans for this year, more than double what Continental spent the year before it signed its merger agreement with U S West. By 1999, says Lillis, the company will have laid fiber-optic wires capable of carrying video, data, and voice to the neighborhoods of more than 98% of its cable subscribers, making it the most sophisticated system in the country. "They're the only cable company sizable enough that has the capital to execute on their own schedule," says Glenn R. Jones, chairman of Jones Intercable Inc., the nation's seventh-largest cable operator. "With their deep pockets, they're going to show the rest of the industry how to do it right."
But will its customers agree? Even U S West executives admit to uncertainty about which technologies consumers want and how much they will be willing to pay. Time Warner's much-ballyhooed Orlando interactive-TV test was not a success. Also a bust was a 1995 U S West test in Omaha that showed the company that customers wouldn't pay for all the bells and whistles that the most advanced--and expensive--technology could deliver. Omaha also taught U S West that it is far too expensive to build new networks on top of established cable systems. It's easier and cheaper just to buy and upgrade them.
U S West's cable systems are now being careful in rolling out new services. It plans to test telephone service in Atlanta later this year and still is looking for a city in which to launch digital boxes for movies on demand. After a year of testing, it's selling its cable-modem service for $49.95 a month to more than 2,000 customers in Boston and Jacksonville, Fla. "The question for them is how much farther they can go at those prices," says Sharon Armbrust, an analyst with cable follower Paul Kagan Associates. "There are always going to be early adopters out there who will pay for the newest technology."
Until then, U S West Media Group also has to worry about protecting what it already has. Its cable business is facing heavy competition from both direct- broadcast-satellite companies and rival telephone company Ameritech Corp., which is building cable-TV systems in U S West cable strongholds in Detroit, Chicago, and Cleveland. In recent months, subscriber growth of the old Continental systems has slowed to 2%, slightly below the national average. Competition also forced it to cut rates for some customers.
CLEAR AS A BELL. That's not slowing down U S West. The company is negotiating with General Instrument Corp. and Scientific-Atlanta Inc. and soon will order state-of-the art digital settop boxes for some of its subscribers. Its 25-person Interactive Services Group is spending tens of millions to buy pieces of Internet companies, including Sports Line USA, golf.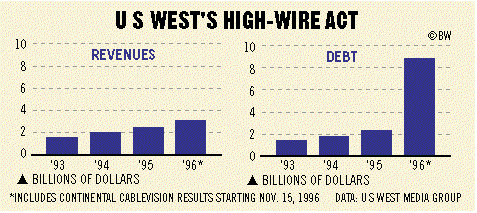 com, and VDOnet, and it plans to roll out Web sites offering localized information in 10 cities. Also, its research lab is working out the bugs to allow its cable systems to offer phone service that sounds as good as that offered over traditional phone lines.
With cash flow of $590 million coming in from its Time Warner investment, McCormick and Lillis say that they're in no hurry to cut a deal with Time Warner. "If we don't do a nickel's worth of restructuring, we're fine right where we are," says McCormick. "We have pretty good mass and scale." But being bigger surely wouldn't hurt anything, especially for a company that seems intent on winning the race to wire America.
Before it's here, it's on the Bloomberg Terminal.
LEARN MORE