The Coming Job Bottleneck
What an aging workforce means for everyone else
Ron Stodghill II
Amid the crank and whir of Cummins Engine Co.'s diesel factory in Columbus, Ind., hundreds of middle-aged men huddle around high-tech, computerized machinery. They make good money, about $18 an hour, and are in no rush to retire. "You can't depend on the federal government" to support older people, says worker and union official Conrad Bowling, 46. Meanwhile, the few younger men on the floor are temps, most of them stuck in low-skill jobs that pay, at most, $8 an hour.
This is America's demographic reality: Its workforce is growing old. The scene is the same on factory floors across Columbus, a thriving manufacturing center of 37,000, and in towns throughout the Midwest and Northeast. America's baby boomers, 76 million people aged 37 to 51, are clogging the workplace, hanging on to the best-paid jobs, and blocking the advancement of younger workers.
It is, of course, every generation's story--a transitional battle for resources and power between young and old. But this clash is different. The boomers are a demographic anomaly, far more numerous than the generations that preceded or will follow them. Unnerved by the prospect of financial insecurity, moreover, they threaten to work well past traditional retirement age.
The result is "a train wreck waiting to happen," says Carol D'Amico, a Hudson Institute senior fellow and co-author of Workforce 2020--Work and Workers in the 21st Century, to be published in April. The 130-page study, a much anticipated sequel to Hudson's pathbreaking 1987 report, Workforce 2000, examines, among other phenomena, the impact of aging baby boomers on their employers and communities.
NO CHOICE. Hudson, a conservative think tank, predicts that as the first boomers move into their 60s by 2010, they likely will put off retirement, some working well into their 70s. Many will be driven by the prospect of having to wait longer for Social Security and Medicare benefits or by fears that Medicare reform will leave them with higher medical bills. For others, skimpier employer-sponsored pensions simply won't pay the bills. As a result, workforce participation rates for men and women aged 55 to 64 could, Hudson estimates, be as much as 14% higher than current forecasts, adding 11.5 million workers by 2020 (charts).
For employers, the implications are enormous. They're likely to be liable for higher wages and far higher medical costs and pension contributions. Per capita health-care costs for men aged 50 to 54, for instance, are three times those for men 30 to 34, according to benefits consultant Watson Wyatt. Companies could face new expenses related to the care of workers' elderly parents.
Employers also will have to counter what the authors call a "graybeard ceiling" of senior employees by creating part-time slots for them in order to make way for promising younger workers. Otherwise, "baby busters," born from 1965 to 1985, will chafe at the limited opportunities--not to mention the loss of income. More important, they will be less experienced and less skilled when boomers finally do retire. Since their cohort is far smaller in number than the boomers', the nation faces the prospect of a shrinking, less skilled workforce after 2020--a phenomenon that would dampen economic growth. "There just aren't enough people in the population to fill the need," says Richard Judy, another Hudson report author.
It's a startling analysis--and somewhat controversial. Most experts concur that some boomers will work longer, but they disagree widely on how much longer as well as on the quality of the labor force to follow. "I just don't think we can count on boomers to retire later," says John H. Bishop, a professor of industrial labor relations at Cornell University. Sheer fatigue, he and others argue, will take its toll on older workers, and some pension plans provide incentives for early retirement. Sara Rix, a senior policy adviser for the American Association of Retired Persons, put it this way: "People still want to retire, and many want to retire early."
Maybe so. But already, in Columbus, Hudson's vision of the future is taking shape. Cummins, for one, hasn't hired a permanent full-timer at its 2,800-employee plant since 1978, and within the next decade, all of its hourly workers will be old enough--65--to retire. While managers of the $5.2 billion company say they would like to bring in younger, cheaper workers, their hands are tied by a 1993 11-year, no-layoff contract with the Diesel Workers Union.
Has the demographic crunch hurt Cummins? Profits dropped 29% in 1996, to $160 million, and as business grows tougher, execs worry about carrying a labor force that increasingly lacks the skills to compete. Some employees balk at learning to use statistics to assure quality control, and a few, managers say, simply bide their time before retirement. Those who demonstrate eagerness to adapt typically take longer to retrain, says James D. Kelly, vice-president for worldwide automotive operations.
Skilled or not, these older workers essentially are taking up jobs that otherwise would go to their own children. In Columbus, the trend has created a sort of two-tier community: Boomers keep the good jobs and the good pay. The younger generation increasingly accepts low-skill jobs with little prospect of having the income their parents did.
A generation ago, for example, 19-year-old Julie Smith easily could have walked from graduation at Columbus East High School to a well-paid job at Cummins, as her mother, Janet, did. Instead, she makes $5 an hour from her part-time job at a local clothing store and lives with her parents, who paid the $8,000 for her 1993 Ford Mustang.
Julie Smith is now studying at an Indiana University annex, hoping to escape the low-wage trap--a trap laid in part by her parents. Her mother, 56, retired from Cummins three years ago--but soon took a new job as a $10.50-an-hour secretary at city hall. Gary Smith, 47, makes more than $20 an hour at Cummins as a structural draftsman. Although eligible to retire in two years, he says he also will likely keep working.
FLIP SIDE. The longer they stay on the job, the longer Julie and her peers stay in lower-paying work. And when boomers finally do retire, Columbus could see its labor market swing the other way. Already, there are signs that, in sheer numbers, the boomers will be difficult to replace. Columbus has seen its high school graduating class drop 25%, to 580 students, in the past decade. "This community has a baby boom problem on one side of the ledger and a baby bust on the other," says Brooke Tuttle, president of the Columbus Economic Development Board. Anticipating the dislocation, Columbus has launched Project Recruit to lure new workers from nearby cities where factories have closed or downsized. But with only low-paid jobs to offer, the effort isn't working miracles.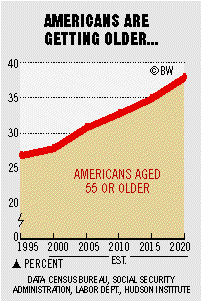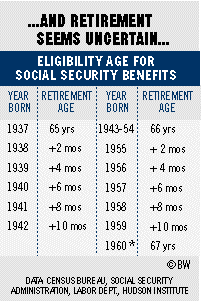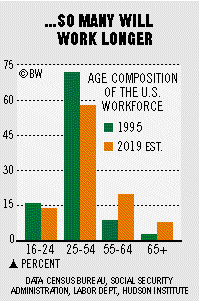 The aging of the boomers isn't all bad. Their extended presence in the workforce could lift gross domestic product by $500 billion by 2010, Hudson says, while adding to income tax revenues and reducing Social Security payouts. "Adding to the workforce boosts productivity, so it's a source of economic growth," says labor economist Audrey Friedman.
But the long-term drag on economic growth could be far stronger--and the solutions aren't simple. Hudson suggests reinforcing seniors' entitlements, thus making retirement more attractive. It also notes that higher economic growth would bring in more revenue for Social Security and Medicare. U.S. policy, though, is aimed squarely at cutting back both programs. Boomers likely won't win this generational battle in Washington--which will make them that much more entrenched at home.
Before it's here, it's on the Bloomberg Terminal.
LEARN MORE