Superstores On Notice
The FTC's actions on the Staples-Office Depot deal signal a hard line toward giant retailers
By and
In the end, a couple hundred million suddenly no longer seemed like such a big deal--certainly not if it stood in the way of a $4 billion merger that had been months in the making. That's what Thomas G. Stemberg, chairman and CEO of Staples Inc., and David I. Fuente, Chairman and CEO of Office Depot Inc. finally concluded. Those millions represented the gap between what they were demanding for 63 stores and what the buyer, OfficeMax Inc. was willing to pay. They had pursued the sale in hopes it would satisfy Federal Trade Commission concerns about how a proposed merger of Staples and Office Depot might eliminate competition in key metropolitan markets.
On Mar. 10, Stemberg suddenly found that he no longer had such a big problem with the low-ball OfficeMax bid. On that day, the FTC announced that since Staples had not sold off the stores that the FTC felt would give the merged office-supply chains undue market power, it would seek an injunction to end the merger altogether. Two days later, Stemberg had a deal: Negotiating through the night of Mar. 11 with OfficeMax CEO Michael Feuer and Fuente, CEO of Office Depot, the companies agreed to sell the stores for $108.75 million, or about $1.7 million each. That's well below the $290 million that a source close to the talks says was Stemberg's starting point--and the $3.5 million per store he previously said was his bottom. But those negotiations had foundered on "ego, economics, and locations," notes Feuer.
Painful? Perhaps. But much less so than a bruising battle with the FTC. In fact, within hours of coming up with the store sale proposal, the companies asked the FTC to delay filing any temporary restraining order against the merger.
Whether the FTC now gives the merger a green light is still open to question. Wall Street is eager for the deal to go through, but consumer groups are watching closely. "We've been opposed to any restructuring of the deal that divested stores to OfficeMax," says James T. Love, director of the Consumer Project on Technology, which opposed the merger.
However the deal shakes out, though, it is likely to be a landmark in FTC merger oversight. Indeed, the FTC's initial decision to block the deal caused a furor among antitrust attorneys, retail analysts, and consumer advocates. Even if the deal is settled, the FTC's opposition signals a new approach to interpreting modern-day retail markets. "The FTC is pushing into new territory," says Washington antitrust lawyer Mark Schildkraut. "It's not as black and white as before."
What's different? In recent years, trustbusters have viewed retailing as a vigorously competitive business where bargain-hunters have lost brand or store loyalty. Because of that, in 1995, the Justice Dept. passed on the Federated Department Stores' acquisition of Macy's. But now, the FTC argues that competition among a new retail phenomenon--category-killer superstores--is different. And whether or not this case is settled, "the business community needs to note the increased reliance by the FTC on this theory," says Phillip A. Proger, a Washington antitrust lawyer.
With the help of internal documents from Staples and Office Depot, the FTC concluded that office-supply superstores form their own unique market. It contends that customers don't see mom-and-pop stationers--or even Wal-Mart--as substitutes for a Staples. If Staples were to raise prices, shoppers would turn to Office Depot or OfficeMax, instead of the corner store. FTC officials note that Staples' Stemberg even said in a speech in August that he didn't view Wal-Mart as a competitor. What's more, through econometric modeling of the companies' internal data, the agency found that Staples' prices were as much as 5% to 15% lower in markets where it competed with Office Depot and OfficeMax than where it operated alone.
Calling the FTC's view "flat-out naive," Stemberg vowed to fight in court. The prime motivation for the deal, Staples executives argued, was to achieve greater efficiency which would lower prices--a point Staples and Office Depot trumpeted in an ad campaign. Staples and Office Depot's combined share of office-product sales in the U.S. is less than 6%, they point out.
To dispute the FTC, Staples commissioned a study by Jerry A. Hausman, a finance professor at Massachusetts Institute of Technology. Hausman claims the FTC's pricing study is flawed for the same reason that the government's old inflation index was flawed: The basket of goods used to measure prices was not weighted according to how much people actually spend. If the FTC had used this method, the price differences in competitive versus noncompetitive markets would average only 5% to 6%, Hausman contends.
Some antitrust specialists agree that the FTC will have trouble justifying its treatment of category killers like Staples as a separate market. The FTC's conclusion "seems like a fairly rigid market definition that's going to be fairly difficult to prove in court," says Kevin J. Arquit, former director of the FTC's bureau of competition and now with the New York law firm Rogers & Wells. William E. Kovacic, who teaches antitrust law at George Mason University, says the FTC's methodology is still a prototype which has not been fully tested in the courts.
Still, neither Staples nor Office Depot were willing to wage a flat-out court battle to prove the FTC wrong. To avoid that, Mark J. Mandel, an analyst with Chicago Corp., figures that Staples settled for a price that's only slightly above inventory value. The merger, he adds, would mean too much to Staples and Office Depot for them to walk away now. "There's way too much to gain for Staples but particularly for Office Depot" in reaching a deal with both OfficeMax and the FTC, he says.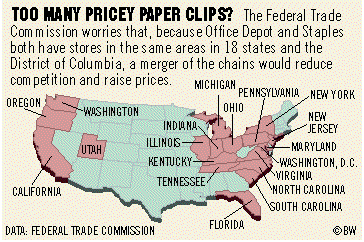 JUMPING SHIP. Office Depot is especially vulnerable if the merger is ultimately blocked. In the six months since the deal was announced and the FTC began its review, Depot has lost more than a dozen middle managers who didn't want to wait and learn of their post-merger fates. And while Depot's overall sales grew in 1996, its operating profit has been squeezed.
Meanwhile, OfficeMax has taken advantage of the situation to accelerate its expansion. It now has more than 576 stores, no debt, and $260 million in cash. And with the Mar. 12 proposal, OfficeMax would gain new markets in Baltimore, Louisville, San Diego, Tampa/St. Petersburg, and Washington, D.C., among others. "While Staples and Depot were looking over their left shoulder to see if we were in the passing lane, we passed them on the shoulder," says Feuer. That's precisely the situation Staples and Office Depot have been trying to prevent all along.