Message From The Mall
Consumers are split: Many middle-class borrowers have hit the credit wall, but the upscale have plenty of running room
Mike Mcnamee and Richard A. Melcher
Home sales are booming--and so are bankruptcies. Dealers are besieged with demand for 36-inch TVs decked out with stereo VCRs and satellite dishes, but used-car lenders are running out of gas. The mail brings 401(k) statements brimming with paper profits to high-income Zip Codes and dunning notices from credit-card issuers to poor ones.
Welcome to the schizoid credit market of 1997, where your forecast for consumer spending--indeed, for the entire economy--depends on which end of the income scale you study. Alarmists note that record-high consumer debt-to-income ratios and credit-card write-offs are sending out recession signals (chart) and tremble over just how long household spending can continue to power the economy.
But the overall numbers conceal a crucial split: In low- and middle-income households, there's a mounting debt crisis. High-end borrowers--with billions in stock market gains--are doing just fine, thank you. Indeed, they are hotly pursued by banks, which still stuff mailboxes with 2 billion credit-card offers a year. "That market is a long way from being tapped out," says Nicholas Perna, chief economist at Fleet Financial Group Inc.
Nowhere are these crosscurrents watched more closely than at the Federal Reserve. With all but high-tech businesses slowing their investment spending, Fed Chairman Alan Greenspan knows that happy, confident consumers are crucial to the economy's continuing growth. Greenspan hopes households can maintain a tightrope act: spend enough to sustain the economy but limit borrowing to work down debt.
For now, Greenspan has reason to feel content. The alarming level of debt among lower wage earners, though worrisome, isn't enough to bring down overall consumer spending. With employment and incomes rising, he thinks overall spending should continue to increase, too. After all, the $50,000-plus households with healthy balance sheets control more than 60% of total personal income and are buoyed by Wall Street's gains. And barring a big shock such as a stock market plunge, they can sustain moderate growth for the economy.
The split credit market isn't easy to measure. But a 1995 Fed survey shows that households below the $50,000-income level are stressed: Their monthly payments rose from 15% of income in 1989 to almost 18% in 1995. By contrast, families with incomes over $100,000 cut payments from 14% of income to 12%.
One reason low- and middle-income families got in deeper: Lenders made it easier for them to borrow and launched massive marketing efforts to get new customers. That's a main reason why, in the $25,000-to-$50,000 group, balances on credit cards, installment loans, and credit lines shot up 30% in three years, to $11,000 in 1995.
Easy credit is now coming back to haunt borrowers. Iris Foster-De Nieuwe, an assistant at a Chicago brokerage house who earns in the mid-$20,000s, is struggling to pay down $28,000 on nine credit cards. "Credit's a double-edged sword," she warns.
Ask Carole A. Stedman. On a $36,000 salary as assistant manager at a San Francisco Safeway supermarket, she enjoyed luxury vacations, lots of new clothes, and frequent dinners out. Her credit-card debt: $25,000. When Stedman resorted to taking a cash advance on a credit card to pay the card's monthly bill, she knew it was time to slow down. But even after a charge-free month, Stedman was shocked to see that new interest exceeded her payments. "It's like a diet where you lose 20 pounds and gain back 30," the 34-year-old says. "A lot of people I know are in this boat."
It's a full boat indeed. The caseload at Pittsburgh's Consumer Credit Counseling Service of Western Pennsylvania climbed 22% in 1996. Nationwide, 201,770 families filed for bankruptcy in 1997's first nine weeks, up 51% from the same period in 1995.
That's taking a toll on lenders, especially "subprime" financiers that make auto and mortgage loans to consumers with poor credit. In the auto market, such lenders zoomed to $70 billion in loans in 1996. But subprime lenders saw their stocks tumble recently with the bankruptcy of Jayhawk Acceptance Corp. and fraud allegations at Mercury Finance Co. "Middle America and below is bearing the brunt of the economy's problems," says A. Mark Berlin Jr., executive vice-president at Olympic Financial Ltd. "And that's where we lend."
TIGHTER STANDARDS. There's reason to believe that before overburdened borrowers become a drag on the economy, lenders will slow the plastic binge. For the past nine months, Fed surveys have shown more banks tightening loan standards than easing them. First Chicago NBD Corp., the fifth-largest credit-card issuer, expects to add 1.6 million customers this year, vs. 3 million in 1995. Its latest mailing went to 9 million households--down from 27 million in a 1995 campaign.
Not that the banks are stomping on the brakes. An American Bankers Assn. panel of economists predicts credit-card debt will rise 5.8% in 1997--enough, they figure, to boost inflation-adjusted consumer spending by 3% in an economy that's expected to grow 2.3%. "Consumers aren't going into a tailspin," says Merrill Lynch & Co. economist Bruce Steinberg.
Retailers certainly hope not. In February, major chains posted a 4.7% increase in same-store sales from a year ago. Home Depot Inc., the Atlanta-based mecca for do-it-yourselfers, chalked up 7% growth in same-store sales for the fourth quarter--a pace it hopes to maintain through 1997.
The picture's not so rosy in Detroit. Analysts project sales of 15.1 million cars and light trucks in 1997, the same as last year's healthy total. But auto makers are paying plenty in incentives and lease deals: For example, just four months after it was introduced, the Cadillac Catera is available on a $399-a-month lease, a subsidy worth $4,100 on a $32,000 sedan, estimates Art Spinella of CNW Marketing/Research.
So what are confident, upscale consumers shopping for? Anything to make their homes cozier. Furniture retailer Ethan Allen Interiors Inc. posted a 10.9% rise in sales in 1996's second half. And Zenith Electronics Corp. predicts industry-wide sales of big-screen TVs will climb 22%: "Baby boomers are big purchasers, and more and more is on credit," says sales chief William J. Sims.
BULL MARKET BOOST. The urge to nest is providing plenty of work for Michael J. Galvin. His Anchor Design & Renovation Inc., which operates in Boston's pricey western suburbs, is booked for the next 18 months. Galvin attributes that to the bull market. Many customers, he notes, pay with checks drawn on brokerage accounts. A stock market tumble, he adds, "would have a huge impact on our business."
On the other hand, the market's 74% gain over the past two years--some $2.5 trillion in paper profits--has not produced the inflationary spending associated with the "wealth effect." Economists calculate the new money could trigger $75 billion in extra spending. But it hasn't, and there's a good reason: The profits are piling up in 401(k)s and other retirement plans workers don't tap.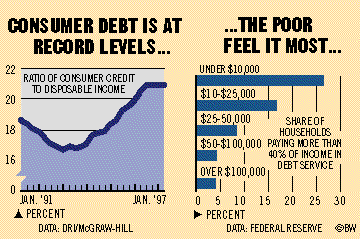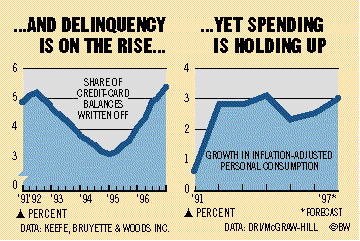 If Wall Street falters, of course, consumers could go into a funk--and a spending freeze. "If stocks drop, debt levels that people can live with now are suddenly going to feel precarious," says Mark M. Zandi, chief economist at Regional Financial Associates Inc. Greenspan, for one, fears that debt levels could magnify a stock market shock, perhaps triggering a deep enough cut in consumer spending to spark a recession.
That's a risk the Fed chief has to live with. The Fed's best hope is to keep consumers happy long enough to let job and income growth catch up to where debt is in line--and some balance can be restored to the bifurcated credit market. More spending, but less of it on plastic, is what Dr. Greenspan would prescribe at this late stage of the business cycle.