Invasion Of The Hydroponic Endive
William Echikson
Rudy Willems carefully packs wooden crates with white Belgian endives, wrapping each one in blue gift paper and layering them in neat rows. He has just received an order for 10,000 heads, to be shipped tomorrow. "We live 24 hours a day with endives," the proud farmer says. "It's in our blood."
For more than a century, the Willemses have farmed the fertile flatland here, just outside the Flemish village of Tremelo, 10 miles northeast of Brussels. But Willems, with his muddy jeans, worn rubber boots, and calloused hands, is part of a new breed of farmers who have revolutionized the Belgian endive industry with hydroponic farming, which grows plants in water. Willems' father and grandfather cultivated their endives in caves or tents. But Willems uses a computer to regulate the temperature and water in his space-age growing rooms. "These are my babies," the proud farmer says, revealing racks of fast-sprouting endives in a specially built refrigerated room of his barn.
DELICACY. For 150 years, ever since a peasant near here covered endive roots (then used as a coffee substitute) with earth in his cellar and returned a few days later to find them growing white shoots, Belgium has cultivated the precious vegetable. The country produces almost 100,000 tons of endives annually--20% of the world's output, worth $100 million. Most of the endives come from Flanders, the northern half of Belgium. "No one makes them as well as we do," boasts Antoine Gielen of the National Federation of Belgian Fruit & Vegetable Exporters.
The fleshy, cone-shaped vegetables are shipped to 50 countries and sold as a delicacy. In New York, a pound of Belgian endives costs up to $6. In Japan, the vegetable is gift-wrapped, with each precious piece selling for $4.
Willems, now 37, learned to raise endives when he was a boy. He and his father spent hours on their knees, tilling the frozen ground. "At the end of the day, my body would almost be numb," he says. Traditional endive cultivation is erratic, taking from three weeks to two months. Sun and heat can kill the fragile plants. Endives can be grown outside only from September until about May.
BRUTAL SHAKEOUT. When Willems set up his own farm in the early 1980s, he vowed to do things differently. He hit upon hydroponics, developed by Dutch agronomists. As he filled his barn with computerized refrigerators, his neighbors "thought I was crazy," he says. Willy Van Meldert, his fellow endive farmer, says: "We all believed it would never work. How can people grow endives in a refrigerator?"
At first, it seemed that Willems was indeed crazy. After spending nearly $1 million on equipment, he produced a crop of watery, rubbery endives. But he kept tinkering with water levels and temperature until his endives were firm and fleshy, with a slightly sweet taste.
Willems' annual growing cycle starts in summer, when he plants the seeds. In November, just before the ground freezes, he digs up the roots and stores them in a refrigerator at -1C. Over the next year, he periodically takes roots to an 18C room and places them on a growing table filled with water at 20C for their three-week growing cycle. He then does little more than check the temperature and the water level. When the plants are mature, the roots are cut off and the outside leaves discarded.
Each morning during the week, Willems loads crates of endives onto his truck and drives to the shipping house of Brava Cooperative, near Brussels' Zaventem airport. Brava specializes in endives. The vegetables are labeled with Brava's "Flandria" trademark and shipped to customers. Willems produces 700,000 endives a year, making him one of the top five growers in the country.
The hydroponic technology has cut endive production costs 25% and lets Willems produce endives all year round. In fact, in the 1980s, "endive farming became a license to print money," says Willems, who employs 15 workers.
"CULINARY GOLD." But spurred by Willems' success, his neighbors adopted the new methods--and so did their Dutch and French rivals. Production jumped, and when the 1990s recession hit, prices plunged. The result was a brutal shakeout. Five years ago, about 4,000 Flemish farmers grew endives. Today, only 900 remain. Fortunately for Flemish endive growers, Europe's harsh 1997 winter, which has frozen out most competing vegetables, means a good season. Wholesale prices at Brava's winter auctions were 20% above last year's, averaging around 75 cents a pound.
Today, high-tech farmers grow more than 75% of Belgian endives, and holdouts, such as Van Meldert, are converting. "With the antique system, you never can be sure how the vegetable will turn out," Van Meldert says, his body covered with dirt. "When Rudy Willems put in the hydroponic, I laughed. But I have to admit he was right."
Not everyone likes the new technology. Many fanciers prefer the traditional endive grown in the ground, which is smaller and stiffer, with a tangy, bitter flavor. At Scholteshof, a 1680 Flanders farmhouse that is now a Michelin two-star restaurant, chef Roger Souvereyns insists on ground-grown endives for his specialties. These include sea-scallop salad with endives and orange, sauteed endives with raw goose liver and truffles, and even endive sherbet. "The endive is our culinary gold. It's tremendously versatile," he says.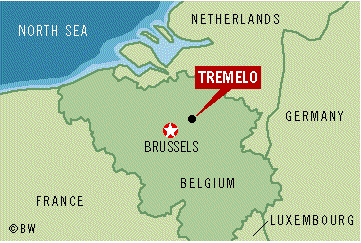 "An endive that comes straight from the ground has a purer taste," says Gielen of the exporters federation. But it sells for up to 20% more, and even local supermarket shoppers are "not willing to pay extra," says Veerle de Peuter, Brava's marketing manager.
Many endive fanciers actually prefer the taste of the high-tech vegetable. Willems does, of course. At the endive restaurant next to the cooperative, he orders a full endive meal--endive salad with North Sea shrimps, a creamy endive-and-ham au gratin, and vanilla ice cream with hot endive jam. Endives are truly in Rudy Willems' blood.