On the Coast, high tech and biotech aren't the only lively issues. Another hot bunch: savings and loans. Several money managers are betting that another big thrift will soon follow the path taken by Great Western Financial, which has agreed to be bought by Washington Mutual--thus dodging a hostile Feb. 18 bid from H.F. Ahmanson, the nation's largest S&L.
These pros are convinced that the next target will be Golden West Financial (GDW), the nation's third-largest S&L. One money manager who is buying says that one likely suitor will be the spurned Ahmanson.
This money pro says Golden West, now at 71 1/4, will also attract other suitors. He figures Golden West shares are worth 113 to 125 in a takeover--based on 2.7 to 3 times their book value of $42. The Great Western offer was based on the same formula, he notes.
Out-of-state banks are also known to be interested in a slice of California business. NationsBank CEO Hugh McColl says he's eager to move in. The thrifts holding the biggest shares of the state's bank deposits are Ahmanson, with 7%; Great Western, 5%; and Golden West, nearly 3%. In this period of buyouts, "our top pick is Golden West," says analyst Paul Huberman of Standard & Poor's. He says it has excellent asset quality, good loan-origination capability, and affluent depositors. Golden West is concentrated in California, but it has a presence in Arizona, Florida, New Jersey, and Texas.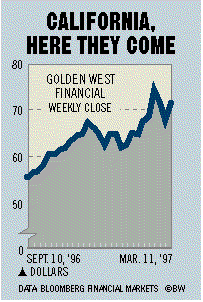 Analysts consider Golden West the Rolls-Royce of S&Ls. Smith Barney analyst Thomas O'Donnell notes that it has the "best track record among major S&Ls." Unlike many other thrifts, he says, Golden West--mainly because of its marketing skill--is generating solid earnings and asset growth. Cost cutting, he adds, is a priority at Golden West, which is run by the wife-and-husband team of Marion and Herbert Sandler, jointly co-chairmen and co-CEOs. They control 19.8% of the stock.
O'Donnell expects Golden West to earn $5.90 a share this year and $6.50 next year, up from last year's $5.32.
Before it's here, it's on the Bloomberg Terminal.
LEARN MORE