business
Germany: At Last, Signs Of A Thaw
By
Germany had a tough winter--as did its economy. But little by little, signs of a revival are cropping up, increasing the chances that the government will meet its 2.5% growth target for 1997. Any upturn will be very unbalanced, though, the result of surging exports and depressed consumer spending.
The economy barely grew in the fourth quarter, with real gross domestic product up 0.1%. Growth was held back by slumps in construction and consumer outlays. Still, that was a tad better than expected, as exports and equipment investment strengthened. First-quarter growth is likely to be about flat as well, but that mainly reflects the coldest winter in decades, which caused an extraordinary 25% drop in January construction output.
The outlook is improving, however. In January, manufacturing output accelerated, as factory orders rose strongly. Foreign bookings, buoyed by the weaker German mark, led the advance, even as domestic orders, depressed by heavy joblessness, remained listless (chart). Also, business confidence rose to the highest level in 1 1/2 years, and machinery orders climbed sharply, suggesting that the export-led upturn is broadening to include capital spending.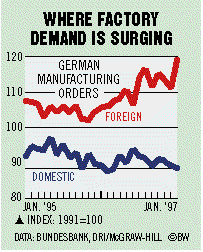 Even the latest word from the job markets has a silver lining. Joblessness remained at a record 11.3% in February, but the rise appears to have run its course. Indeed, some of the recent surge in unemployment has been the result of temporary factors that should reverse this spring. In particular, a new policy this winter required construction workers to register as unemployed in order to receive "bad weather" benefits.
By cutting into government revenues and lifting outlays, high joblessness is hampering Germany's efforts to reduce its 1997 public-sector deficit to 3% of gross domestic product, as required by the Maastricht Treaty for entry into a single-currency Europe. But with growth picking up, the government's chances of reaching its deficit goals will improve as the year progresses.
Before it's here, it's on the Bloomberg Terminal.
LEARN MORE