Ford: The Board Starts To Get Tough
Dearborn is under the gun to boost margins--now
by
With overseas losses mounting and the stock falling, Ford Motor Co.'s board of directors reached the boiling point last fall. Sources close to the board tell BUSINESS WEEK that 11 of Ford's outside directors--led by Michael D. Dingman, chief executive of Shipston Group Ltd.--were so frustrated with Ford's unexpectedly high non-U.S. auto losses in the third quarter that they read the riot act to Chairman Alexander J. Trotman. At the November board meeting, Dingman read the chairman a letter from the outside directors calling for him to bring order to Ford 2000, Trotman's increasingly unwieldy global reorganization plan. No more earnings surprises, they said--especially downside ones.
The message is clear: Trotman must get Ford back on track if he has any hope of staying chairman past his 65th birthday in July, 1998. Ford's auto business is stalling amid high costs and internal chaos from the overhaul. Investors question whether the new president of automotive operations, Jacques A. Nasser, can meet his own cost-cutting goals while keeping Trotman's grand strategy out of the ditch. Although the board still supports Ford 2000, it has grown impatient. "They are asking, `Is this ever going to really work?"' says a source close to the board.
In a statement, Trotman responds: "The board is of one mind and is strongly behind the management and the direction of the company." He declined to comment on the "content of board meetings." Ford directors did not respond to requests for comment.
The board's restiveness is justifiable. Trotman says Ford is moving toward its goal of a 5% profit margin on autos, but it still has a long way to go. Last year, Ford's worldwide auto margin was an abysmal 1.4%, down from 1.9% in 1995 (chart), and the company posted the worst auto profits and highest costs of the Big Three. Nearly two-thirds of Ford's 1996 net income of $4.4 billion came from financial services. While Ford has some hot-selling trucks, an in-house presentation in November revealed that its cars "lose money around the world."
Ford 2000, launched in January, 1995, was supposed to fix all that. But Trotman's overhaul may be hurting more than it's helping. Company insiders say the process of centralizing operations in Dearborn, Mich., has demoralized employees--and squashed auto earnings. Trotman says Ford 2000 will result in billions in savings and a nimbler company. But investors haven't seen a payoff: Ford's stock has fallen 16% since May, to 32 1/4 on Mar. 11. "Ford 2000 certainly is going to make it more difficult to reel in their costs," says Gary Lapidus, analyst at Sanford C. Bernstein & Co., which owns 21 million shares.
The fireman called in to ensure Trotman's survival is Nasser, the Aussie with a penchant for Savile Row suits and antique watches. He is known as "Jac the Knife" for his belief that the path to prosperity must be slashed open with deep spending cuts. "I regard [cost-cutting] as a crusade," he says. Since being promoted in October, Nasser, 49, has told the troops to cut spending by up to $2.5 billion this year, to $114 billion--the first year-over-year cost reduction in Ford's 94 years. He is dumping slow sellers like the Probe and putting the Thunderbird on hold until 2001.
Nasser has gone out on a limb with Wall Street, too, promising that Ford's North American auto profit margin will hit 4% in 1997, up from 2.7% last year. Investors cheer his drive--but remain skeptical. Says one: "Confidence is too strong a word to use, given Ford's recent track record. But Nasser will pull out all the stops."
DIRE THREATS. So far, Nasser is talking tough. In a fiery speech at the Geneva Motor Show on Mar. 3, he cited "aggressive actions" taken to cut European capacity and pledged more to come. Sources close to Ford say he has been strong-arming union leaders to accept wage and job cuts. If they resist, he threatens to move production. The goal, says an investor, is to cut costs by 20% at each of Ford's 14 European plants.
Some insiders think Nasser's aura of success is exaggerated. He slashed 10,000 jobs when he ran Ford's European operations in 1993-94, and profits there rebounded to $128 million from an $873 million loss in 1993. But the turnaround was fleeting: Ford lost $352 million in Europe last year. While sales are strong for the Ka, the quirky minicar Nasser rolled out, it's not a big moneymaker.
Nasser is not entirely to blame, since Europe's car market tanked just as Ford 2000's changes began to be implemented. Still, he now must tackle such thorny issues as a surplus of suppliers in high-cost Germany. Analysts say Ford's excess capacity of about 350,000 cars in Europe means that he must close a plant. "He took a big chunk out of employment three years ago, and that didn't stabilize things," says John Lawson, auto analyst at Salomon Brothers International Ltd. in London.
Not all of Nasser's instincts lead to cost-cutting. Insiders say he likes to tinker with car designs in their late stages, which can lead to multimillion-dollar changes. One design staffer says Nasser shortened the snout of the 1999 Windstar minivan at the 11th hour because "it didn't fit his design aesthetic." Nasser proudly acknowledges that he sweats the details and says such moves were part of his former job as head of product development. But insiders lament the costs of such changes and their effect on morale. "He views product design as his sandbox," says one manager.
Nasser also has a reputation for executive excess. When he was promoted in October, he kept his office at Ford's product development center and had his lieutenants move there. Insiders say the move required a $1 million remodeling job. The overhaul coincided with companywide meetings exhorting employees to pinch pennies to help cut $2.5 billion. Staffers emerged from one meeting to see five shower stalls in the lobby, awaiting installation in the new offices. "It was like a slap in the face," huffs one staffer. Nasser says his executives can better monitor the business by staying near development, and adds that his office was actually cut down in size to make way for the others.
Nasser will have to chop more than that to make up for car losses, analysts and investors say. Many expect Ford to double the $1,000 rebate on the Taurus, which may lose the top-selling car spot to Toyota's Camry. The weak yen is letting the Japanese cut prices on such models as the Camry and Lexus ES300. "Ford's car lineup will come under massive assault," says Bear, Stearns & Co. analyst Nicholas Lobaccaro, who rates the stock "unattractive" and projects flat 1997 earnings with auto revenues dipping to $115 billion. Since Mar. 3, analysts have cut first-quarter earnings estimates 3%, to about $1 billion.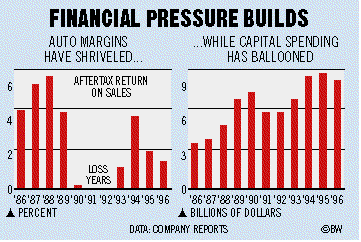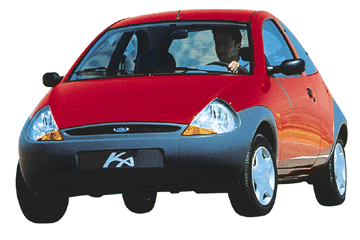 Faced with such grim news, sources close to the board say that directors Dingman and Drew Lewis, retired chairman of Union Pacific Corp., are not inclined to extend Trotman's contract beyond age 65, as he hopes. Also raising tough questions are retired Wells Fargo Chairman Carl E. Reichardt and Coca-Cola Chairman Roberto C. Goizueta. One source close to the talks says the board is weighing whether it should give William Clay Ford Jr., 39, more than the nonexecutive chairman's role it has been considering. To give the company a fresh perspective, the board is considering giving young Ford responsibility for corporate strategy and having him act as public spokesman. Nasser would lead operations as president or CEO, say sources close to the board.
That depends on Nasser pulling off his biggest turnaround. If he fails, the board might look outside Ford for a CEO, the sources say. That would shake Ford's culture to the core. "We all have a lot riding on Jac," CFO John M. Devine recently told an analyst. Indeed, if Nasser isn't Mr. Fixit, Trotman's retirement could come earlier than he plans.
Before it's here, it's on the Bloomberg Terminal.
LEARN MORE