business
Commentary: Why Didn't Anyone Smell A Rat At Centennial?
Geoffrey Smith
Centennial Technologies Inc., once a high-tech dynamo in Billerica, Mass., was last year's biggest gainer on the New York Stock Exchange, up 450%. But this year, Centennial slumped from 55 1/2 on Dec. 30 to 2 3/4 in mid-March.
Not surprisingly, serious fraud is suspected. According to court documents, CEO Emanuel Pinez used a form of trickery rarely seen: He hyped sales by using his ample personal fortune to fund purchases. "Any auditor would have a hard time catching that," says William H. Coyne, an accounting professor at Babson College.
Pinez founded Setag Inc.--which later became Centennial--in 1987 to develop PC cards for portable computers and laser printers. Sales jumped from $12 million in 1995 to $38 million 1996, with profits rising briskly as well.
But there were many red flags that should have been spotted, because Pinez had a very checkered past. The Israeli-born executive acknowledged in court last month that he had a criminal conviction on copyright violations in Switzerland--but said the conviction had been expunged from his record. According to several accounts, he was also fired from a job for creating false sales records at a unit of Singer Co., and he lied about his schooling on his resume and in Securities & Exchange Commission filings.
INNOCENT. Pinez' alleged accounting shenanigans may go back as far as 1994 and may involve deceptions well beyond fictitious sales receipts, according to court documents. Centennial Director John J. Shields, a former CEO of Computervision Corp., says in an affidavit that Pinez admitted to him that he altered inventory tags and recorded sales on products that were never shipped. Pinez' lawyer says Pinez is innocent.
Coopers & Lybrand, Centennial's auditor, claims that "the fraudulent accounting practices were apparently carried out by the company's former top management to deceive its board, investors, lenders, creditors--and Coopers & Lybrand." That's an awfully long list, and no one should be more red-faced than William J. Shea, chief financial officer of BankBoston, who served on Centennial's board and whose bank was the company's primary lender. Shea declined comment. Donald Peck, the company's chief counsel, says the board took quick action when questions arose.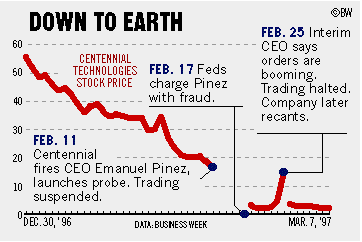 The new CEO hired to rescue the company, Lawrence J. Ramaekers, added a baroque twist to the tragedy on Feb. 25, when he told a reporter that the company's sales were going well. The news sent Centennial's stock skyrocketing--from 4 1/2 to 14 3/4. The New York Stock Exchange halted trading after the company said it would issue a clarification--in which it played down his remarks. The stock reopened on Feb. 27 at 3 3/4. It was later delisted.
On Mar. 12, Pinez, 58, was indicted on five counts of securities fraud. How he managed to deceive so many for so long remains murky. What is clear is Shea isn't the only one who deserves to be embarrassed. A small crowd of seemingly sophisticated folks who were supposed to look out for shareholders' interests just blew it.
Before it's here, it's on the Bloomberg Terminal.
LEARN MORE