Can't Wait Till Summer? Neither Can Hollywood
The studios are jumping the gun in a year of titanic expectations
by
Time was when it was next to impossible to find a Hollywood blockbuster opening between Christmas and Memorial Day. But that was before Hollywood budgets reached their current stratospheric levels.
These days, the major studios seem hell-bent on producing the most expensive movies they can. How else can one explain paying Arnold Schwarzenegger $1 million a minute for his 25-minute performance in the new Batman and Robin? Indeed, Hollywood is spending so much on so many movies that some marginal but pricey flicks--those costing over $60 million--are dropping out of the summer blockbuster parade in order to avoid being trampled. That's why you're seeing summer fare at the local 12-plex long before the first signs of spring.
"BIG FISH." "You could argue that summer really started on Martin Luther King's Birthday," says Walt Disney Motion Pictures Chairman Richard W. Cook. The re-release of Star Wars has grossed more than $130 million. Dante's Peak, which opened Feb. 7, brought in $58 million and could break even once overseas and video revenues come in.
Other blockbuster films originally scheduled for summer but opening this spring include Columbia Pictures' trouble-plagued The Devil's Own, starring Harrison Ford and Brad Pitt; Jim Carrey as a lawyer who can't lie in Universal Pictures' Liar, Liar; and The Saint, from Paramount Pictures Corp., starring Val Kilmer. Each carries a hefty price tag, with The Devil's Own and The Saint each costing more than $80 million. The reasoning behind the new schedules, says Phil Garfinkle, president of international services at box-office watcher Entertainment Data Inc.: "Do you want to be a big fish in a little pond, or a little one in a big pond?"
The shift began when Metro-Goldwyn-Mayer Pictures generated a surprising $124 million in March, 1996, with The Birdcage--a movie that was not expected to be a big hit. Other studios took note of the large audiences. "We used to worry about weather, a lot of things, earlier in the year," says Thomas Sherak, president of worldwide marketing for Fox Film Entertainment, which is releasing the big-budget Volcano in late April. "Now, we figure if the film works, the audience is going to find it."
A movie that doesn't work will quickly get lost this summer. Hollywood has a bumper crop of big-budget spectacles. In 1996, more than half the summer films generated less than $1 million each at the box office, according to Entertainment Data.
So what are the likely big winners this summer? Universal's The Lost World and Batman and Robin are considered locks. So is Disney's animated film Hercules and Columbia's Men in Black, a sci-fi spoof. Disney's Con Air has rivals worried. And traditional summer stars, such as Harrison Ford in Columbia's Air Force One and Mel Gibson in The Conspiracy Theory, are expected to sell their share of tickets, along with John Travolta in Paramount's Face Off.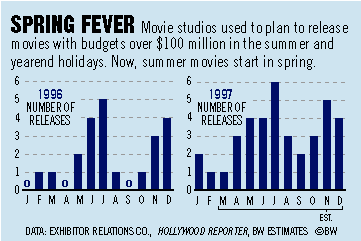 ICEBERGS AND ALIENS. The biggest gamble is Titanic, the joint venture between Paramount and Fox that insiders say may well live up to its title--in all the wrong ways. The film's budget has already grown to nearly $180 million. Director James Cameron built elaborate sets and a 775-foot replica of the vessel. Insiders say Cameron is struggling to meet Titanic's planned July 4 launch. Still, the film's trailer won raves at a recent gathering of theater owners in Las Vegas. Other movies with less-than-spectacular buzz include Fox's Speed 2: Cruise Control and Alien Resurrection.
Some producers are hoping to find a safe haven for their movies by pushing back openings to the fall. Columbia has moved the $120 million alien film it is making jointly with Disney, Starship Trooper, to November.
There's plenty of reason for movie makers to be hopeful, though. The $1.15 billion collected at the box office in the first 11 weeks of 1997 puts the industry 25% ahead of last year. "We're heading for a record year," crows Michael W. Patrick, president of the Carmike Cinemas Inc. chain. Good thing for those Hollywood spendthrifts.
Before it's here, it's on the Bloomberg Terminal.
LEARN MORE