business
Alza: Pepped Up Over Proteins
By
For more than a year, Alza (AZA) has been a favorite rumor stock. Takeover players have bet heavily that the likes of Pfizer were angling to swallow Alza, a leader in controlled-release drug delivery. Rumors lifted the stock to 34 in March, 1996. But when the whispers came to naught, the shares nose-dived--to 24 by mid-July. But guess what? The stock is back to around 30, this time with no buyout scuttlebutt. What's sparking Alza's recovery?
Alza is about to sign a pact with a big drugmaker or biotech outfit to use one of Alza's systems for an important protein, according to several investors attending a health-care conference in San Francisco. Alza has the capacity to deliver proteins used in treating infectious diseases and cancer, says one California money manager.
When Alza's new pact is announced, "investor perception of Alza will improve dramatically," he says. Alza's ability to deliver biotech proteins in a more convenient and efficient manner, he adds, doesn't have the recognition it deserves on the Street.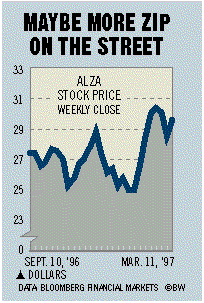 Health-care analyst David Saks of the New York investment bank Gruntal says Alza is "undervalued in the hot biotech and drug group" and should be "selling at a much higher valuation, given the company's leadership in drug delivery." One of these, he explains, is its E-Trans system for administering proteins and peptides, including insulin. And Alza's "skin interface" technology can propel molecules through the skin with the help of a small jolt of electrical energy. The new Alza message, says Saks, is that the company is on the cutting edge of drug-delivery technology to transmit complex medicines in a safer, more convenient, and more effective manner. He sees Alza earning $1.30 this year and $1.60 next, vs. $1.08 in 1996. His target for the stock: 45 in a year and 55 in two.
Before it's here, it's on the Bloomberg Terminal.
LEARN MORE