Why Ford Is Riding Shotgun For The Uaw
To mollify the union, it's helping to organize parts suppliers
Bill Vlasic
United Auto Workers President Stephen P. Yokich is grinning like a Cheshire cat these days. In mid-February, the UAW won fat pay hikes for new union members who mounted a 24-day strike at two Johnson Controls Inc. auto parts plants. They got a crucial assist from Ford Motor Co., which spurned parts made by replacement workers Johnson had hired to defeat the strikers. Now, the UAW plans to repeat the move at other parts suppliers. The goal: to use the union's leverage at all three Detroit carmakers to mount a broad recruitment drive in the mostly nonunion auto parts industry. Ford's action "is very new and exciting," says Yokich.
His experiment at Johnson Controls is being closely watched by other unions as a potentially potent new recruitment method for labor. Like the UAW, many unions represent workers at large companies whose suppliers are nonunion. AFL-CIO officials are urging unions of all industries to wage organizing drives at the suppliers and demand help from the unionized companies--or threaten sympathy strikes if they accept parts from a reluctant supplier. "Unions need to use their relationships with current employers to unionize suppliers, and the UAW is showing the way," says Nancy Mills, head of the AFL-CIO's new Center for Workplace Democracy.
For Yokich, the move is part of an effort to reverse the union's decades-long membership slide (chart). He says he's doubling the ranks of organizers and creating new regional organizing offices. With 300,000 or so nonunion workers making auto parts, "our membership is going to go up again," Yokich vows.
The auto parts industry, however, is determined to prevent union inroads. "The major suppliers are very worried about what happened at Johnson Controls and have registered their concerns with [Ford CEO Alexander J.] Trotman," says Tenneco CEO Dana G. Mead. Ford's intervention has caused a furor because the Big Three have so much clout with suppliers. Last year, Ford asked Johnson, which sells the carmaker $1.2 billion worth of parts a year, to recognize the UAW at the two plants without a formal election. Ford did so because the UAW objected strongly when the carmaker outsourced the seats and other parts to Johnson.
SINGULAR RELATIONS. Johnson went along and ultimately agreed to most of the union's pay demands. But it refused to remain neutral in future UAW organizing drives. So the union struck on Jan. 28. When Johnson tried to supply Ford by using replacement workers, Ford again backed the union and refused to take the nonunion-made components. In the end, the UAW conceded that Johnson could abandon its neutrality in the future, and Johnson agreed to lift wages by up to 33% by 1999.
Yokich won't find it easy to repeat the victory. For one thing, Ford's relations with the UAW are singular. In the 1996 contract talks, Yokich wanted Ford to agree to encourage suppliers not to oppose unionization drives. Ford labor-relations honcho Peter J. Pestillo, a personal friend of Yokich, seemed willing to go along. Ford ultimately refused, citing legal worries. Now, suppliers fear that Ford is helping Yokich anyway. Indeed, Ford has made clear the high value it places on the union's cooperation in boosting shop-floor productivity. Trotman says little to allay suppliers' concerns. When asked if he supports UAW efforts to unionize suppliers, Trotman told BUSINESS WEEK: "We're not shy in making it plain that we have a very good relationship with the UAW."
The other two Detroit carmakers seem much less willing to lend the UAW a hand with its campaign. "Honestly, I don't understand [Ford]," says J.T. Battenberg, chief of General Motors Corp.'s parts unit. A Chrysler Corp. exec says: "We would never do what Ford did."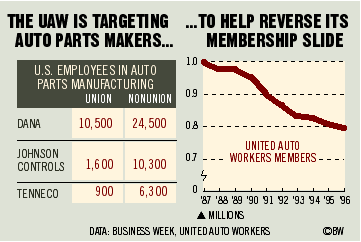 Yokich may yet be able to force their hand. For one thing, the UAW can stage strikes at suppliers over the right to unionize. "That would put Detroit on the spot," says a supplier labor-relations official, because auto makers would risk sympathy walkouts in their own plants if they accepted parts made by supplier replacement workers. True, the union legally can't strike the Big Three over labor battles at suppliers. But the UAW can always find a pretext, such as safety violations. "We're going to be very active" at suppliers, vows UAW regional director Bob King.
Not all suppliers think that's bad. Lear Corp., with 60% of its 33,000 employees unionized, would benefit if the UAW equalized industry labor costs. "We're not opposing" the UAW's organizing drives, says Lear CEO Kenneth L. Way. For most other suppliers, however, the smile on Yokich's face is a sign of trouble ahead.
Before it's here, it's on the Bloomberg Terminal.
LEARN MORE