U.S.: From Autos To New Homes, Consumers Are Going Whole Hog
by
Big-ticket buys and strong income growth reflect a robust labor market
If the economy was supposed to slow down in the first quarter, somebody forgot to tell consumers. Bolstered by the strongest set of fundamentals in years, household spending began 1997 with a bang. And since inventories were already lean heading into the new year, manufacturers are starting to feel some pressure to boost output to catch up with demand.
The economy's strength, which has come as a surprise to many analysts, shows up in nearly all pieces of the latest data. Reports on everything from consumer outlays to home sales to factory orders have bested expectations (charts), sending many economists back to their spreadsheets to review the near-term prospects for growth and Federal Reserve policy.
Indeed, in the second leg of his semiannual report to Congress, this time before the House Banking Committee, Fed Chairman Alan Greenspan reiterated on Mar. 5 that many of this business cycle's temporary depressants on inflation--including job insecurity and health-care costs--may now be ending.
Most Fed watchers still believe that Greenspan will not hike interest rates at the Fed's Mar. 25 meeting. However, Greenspan has all but admitted that possible financial-market excesses are now playing a more prominent role in the Fed's thinking. And given the recent data and the chairman's tough talk, nearly all agree that the chances of a preemptive strike aimed at containing inflation and assuring stable financial markets have increased.
AS GREENSPAN HIMSELF SAID, questions about the outlook "are especially focused on the behavior of consumers." And right now, it appears that household spending is more likely to be stronger than expected, not weaker. Real consumer spending on goods and services jumped a solid 0.6% in January, on strength in autos, computers, furniture, and recreation.
That means consumer spending started the quarter at an annual rate of 2.9% above the fourth quarter level. Even small gains in February and March would assure another quarter of at least 3% spending growth. Store surveys suggest brisk February activity, while car and light-truck sales stood at a 15.3-million annual rate. That was down from 15.5 million in January but still stronger than the fourth-quarter's 14.8-million pace.
Consumers also are plunking down big bucks for housing. Sales of new single-family homes jumped a startling 8.6% in January, to an annual rate of 870,000. That was the highest sales pace in 11 years, and home buying in each of the three previous months was revised up. Analysts had almost uniformly expected January sales to decline. The Commerce Dept. admitted that a new computerized data-gathering system may have overestimated the month's total. More than half the data were collected using the new method, but even accounting for the overstatement, sales are clearly strong.
THE WILLINGNESS OF HOUSEHOLDS to commit to purchases of big-ticket items should come as no surprise, given the strongest labor markets in years. The most recent evidence: The Conference Board's index of help-wanted ads for January rose to 87, matching the November level as the highest reading for the year. But the most compelling trend is that for first-time jobless claims. Through Feb. 22, the four-week average of new claims fell to 313,000, matching the lowest reading in this six-year expansion.
The combination of strong job markets and low inflation is generating solid gains in purchasing power. Real aftertax income rose a sturdy 0.5% in January, which already puts first-quarter growth at a 4% annual rate, compared with the fourth-quarter level. The 12-month growth rate of real income has been holding at about 3% since last spring. And with the labor markets continuing to tighten, income growth at that pace, or faster, is a realistic expectation in coming months, and spending should grow in line with income.
Moreover, households already have throttled back on credit use. Installment debt is now growing roughly in line with incomes, at a time when stock market gains and rising home prices are buoying the asset side of consumers' balance sheets. Also, the saving rate has been rising for three years, adding to households' financial cushions. During the past half-year, households have saved 5.2% of their aftertax income, the most in four years and more than the 4.9% average for the past decade.
THE CONSUMER-LED STRENGTH in demand is working its way back to U.S. manufacturers. And with inventories low in relation to sales, orders are strengthening and the incentives to lift output are building.
The Commerce Dept.'s second take on fourth-quarter gross domestic product showed that inventory growth was only half of what it was first estimated to be. The revision, to a rise of $16.4 billion from $31.9 billion, more than accounted for the adjustment to overall GDP growth, to 3.9% instead of 4.7%.
But the inventory revision indicates upbeat prospects for overall growth in the first half of 1997. That's because inventory growth is lagging well behind the pace of demand (chart). During the past year, stock levels have risen 1.2%, while final demand for goods is up 4%. Unadjusted for inflation, the December inventory-sales ratio was at a record low.
That's one reason why factory orders remain on an upward track. Bookings for durable goods rebounded strongly in January. They rose 3.6%, more than making up for two losses posted in November and December. In addition, unfilled orders jumped 0.8% and now stand at the highest level in five years.
And according to the National Association of Purchasing Management, the factory sector's allegro tempo continued in February. The NAPM's composite index of business activity rose to 53.1% last month, up from 52% in January, led by strength in new orders and production. A reading greater than 50% means that manufacturing activity is on the rise.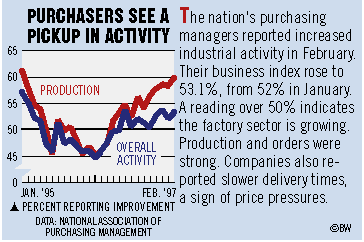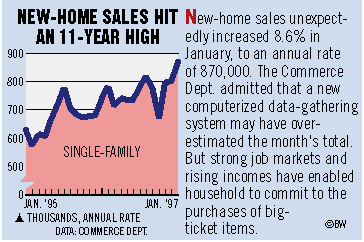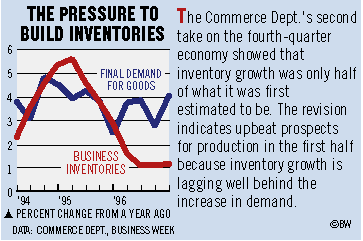 In fact, two components of the index caught the eye of the financial markets: The index of prices paid rose to the highest level in 1 1/2 years, and the speed with which companies make deliveries slowed. Both are indicators of pricing pressures that are known to arouse the interest of Fed Chairman Greenspan. Still, these indexes remain below the thresholds touched back in 1994, during the last round of Fed tightening.
But unless consumers dial back their enthusiasm, the pressure on production capacity and goods prices will only grow in coming months. Right now, solid job markets, rising wages, and healthy balance sheets mean consumers face few spending obstacles. But their smooth sailing means that the spring will prove to be an especially challenging time for policymakers at the Fed--and for the financial markets as well.
Before it's here, it's on the Bloomberg Terminal.
LEARN MORE