business
The Wrong Kind Of Coffee Is King...But A Cold Snap Has Opened Eyes
By
The Wrong Kind Of Coffee Is King...But A Cold Snap Has Opened Eyes
By
Surrounded by the sloping coffee plantations of southern Minas Gerais state, Marcelo Vieira crouches to inspect an experimental hybrid plant called catucai. As president of the Brazil Specialty Coffee Assn., Vieira is spearheading an effort to make Brazilian beans fit for espresso bars from Sao Paulo to Seattle. "The market is out there," he says, dusting the red dirt off his pants. "Now, we have to make sure our product has a distinctive taste that's the same every cup."
Although Brazil is the world's largest coffee exporter, it has a feeble presence in the fast-growing gourmet market, now dominated by smaller producers in countries such as Colombia, Costa Rica, Ethiopia, Guatemala, Indonesia, and Kenya.
Why? For decades, the Brazilian government intervened in exports, mixing the best beans with the worst in order to help producers across the board. The blend was good enough for mass-consumption markets, but among specialty buyers, Brazilian coffee developed a poor reputation. "We had dismissed Brazil," says George H. Howell, who owned a chain of specialty coffee shops around Boston that he sold to Starbucks Corp. in 1994. The Brazilian government ended its role in exports in 1989, and quality has since picked up, "but it takes a while to change people's minds about coffee," says Howell, now a consultant.
After visiting one of the dozens of plantations that dominate the landscape of southern Minas Gerais, Howell, Vieira, and a few growers sample some local java in a tasting room at Minasul, a coffee cooperative in the city of Varginha. After pouring warm water over the ground beans, each participant slurps up a tablespoonful, swishes it around the back of the mouth, and, to avoid a caffeine jag, spits it into a metal can.
Alas, Brazilian coffee isn't what it used to be. Although coffee exports have not declined, in the increasingly diversified economy coffee makes up just 3% of exports, compared with 55% in the early 1960s. The mansions of coffee barons that once lined Sao Paulo's Avenida Paulista were long ago torn down to make way for banks and fast-food restaurants. But in parts of the country, especially the eastern states of Minas Gerais, Sao Paulo, Bahia, and Parana, coffee remains an essential part of the economy and culture. Minas Gerais, responsible for half of Brazil's coffee output, by itself turns out about as much as Colombia, the world's second-leading producer.
"CONSUMER'S REVENGE." Prominent growers believe that by targeting the upscale market, Brazilian coffee can get its good name back. The boom in gourmet coffees, which account for 20% of sales in the U.S., vs. 10% five years ago, "is an extraordinarily good development for us," says Luiz Hafers, president of the Brazilian Rural Society, a farmers' group. Hafers, whose family has been growing coffee of various grades since 1810, calls gourmet "the consumer's revenge against garbage."
Competing with the elite beans won't be easy. The biggest obstacle is the cost of labor, since harvesting higher grades is harder work because of the extra time needed to pick only the right beans. Farm workers in southern Minas Gerais receive about $500 per month, while laborers in many other coffee-growing nations are paid no more than $100.
In pitching gourmet coffee, Brazilians can't ignore their own market at home. Brazil is the world's second-leading coffee consumer, trailing only the U.S. Now that North Americans, Japanese, and Western Europeans have already elevated their taste buds, "this will be the next big market for specialty coffees," Vieira says.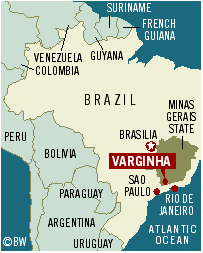 Espresso bars targeting the affluent are popping up throughout Sao Paulo and other cities, sometimes alongside the blue-collar lanchonetes, or snack bars, that sell java made from less pricey beans. All in all, total coffee consumption has soared by 16% in the last two years. Part of the credit can go to President Fernando Henrique Cardoso's Real Plan. By reducing inflation and stabilizing the currency, the economic reforms have added to the average Brazilian's purchasing power.
However, unusually chilly weather in 1994 might well have been the biggest factor boosting the consumption of gourmet coffee among Brazilians. When a frost that year reduced supply, some of the superior-grade coffees that normally would be designated for export had to be sold domestically. After getting a taste of the better java, many Brazilians wouldn't go back to the inferior stuff.