business
The Skid At Renault
Once a star, the carmaker may lose $1 billion
Bill Javetski and David Woodruff
The Skid At Renault
Once a star, the carmaker may lose $1 billion
Bill Javetski and David Woodruff
After 10 years on the assembly line at Renault's Vilvoorde plant near Brussels, Paul Verschoeven, 28, thought he had a secure job for life. Instead, he and other workers are now occupying the factory, which Renault abruptly shut down on Feb. 27, laying off its 3,100 workers. By blocking the removal and shipment of finished Megane sedans, they hope to force Renault to reopen. But "our chances are little, little," Verschoeven admits.
In fact, Vilvoorde is only the first in a series of massive cutbacks by Renault as it reacts to rising competitive pressures from revived European rivals such as Volkswagen and Adam Opel--and to mounting red ink. On Mar. 20, Chairman Louis Schweitzer is expected to report a loss of as much as $1 billion in 1996, Renault's first loss in 10 years. On Mar. 4, Renault warned labor unions in France that it will cut 2,700 jobs back home. Philippe Schwarz, head of DRI/McGraw-Hill's automotive group, says Renault may need to lay off as many as 10,000 to regain a competitive edge.
FUSTY LINEUP. France's other carmaker, Peugeot, with its fusty product lineup and stumbling diversification into emerging markets, looks to be right on Renault's bumper. Underlying the French troubles is massive overcapacity in Europe: While auto makers are expected to sell 13 million cars this year, they could produce another 3.5 million.
For Renault, the plunge back into crisis after several years as one of Europe's turnaround stars is a grim reminder of the relentless forces for change sweeping the Continent. In recent years, VW has revamped its designs and stepped up its marketing push. Fiat and VW have been more successful than the French in expanding into emerging markets. Now, price-cutting by VW is ratcheting up the pressure on Renault and others. "We are aggressive," says Robert Buchelhofer, VW's managing director for sales and marketing. In France, such aggressiveness, especially in small cars, boosted VW sales by 22% in 1996.
Up to now, Renault has been responding mainly by lowering prices to keep its factories running and halt the decline in its market share (chart). That strategy has been "very costly" for Renault, says Richard M. Donnelly, president of General Motors (Europe). Now, belatedly, Renault is pushing to lower its costs by boosting productivity. Its most visible response so far is the plant shutdown at Vilvoorde. The aim, says Michel de Virville, senior vice-president, is to concentrate production of individual models in a single plant. Beyond that, Renault aims to raise productivity by 5% a year throughout the company. "There won't be any part of the company that is protected" from the drive for efficiency, de Virville says.
The French government's tacit backing for Renault's layoffs means that tensions such as the protests in Belgium will move closer to home. After futile attempts to prop up new-car purchases with rebates averaging $1,400 per car in recent years, the deficit-obsessed government of Prime Minister Alain Juppe canceled the program last September. Sales swooned. Then, in late February, the government all but threw in the towel. One day before Renault's shutdown announcement, the French government rejected a joint proposal from Renault and Peugeot to approve a sweeping early-retirement program for 40,000 employees in return for the auto makers' hiring 14,000 younger workers.
With legions of employees certain to be lining up from French banks, insurers, and other overstaffed industries facing restructuring, the government is wary of doing anything to feed a growing national appetite for state-funded retirement as early as age 55. Instead, the government "has given the industry carte blanche to go ahead and restructure," says John Lawson, Salomon Brothers Inc.'s London-based auto analyst.
Regaining lost ground in Europe's fierce auto competition will be tough, though. VW and Opel have introduced a series of slick new models to eat away at the French producers' market share. Peugeot's product line remains unimaginative. Renault, a few years ago, led with innovative models such as its Espace minivan, priced at $27,000 at the current exchange rate, and playful subcompact Twingo, at $10,400. But its only star now, the $18,600 Megane Scenic, will soon face stiff competition from Fiat and VW in the small-van niche.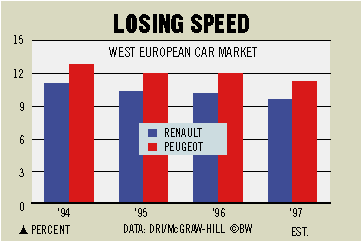 MERGER TALK. The results are showing on the bottom line. Renault had an operating loss on car sales last year, and overcapacity on the truck side of the business is starting to bite. "I don't think they can survive on their own" in trucks, says Eckhard Cortes, managing director for strategy at Daimler Benz. While Peugeot has managed costs better than Renault, it depends on Europe's stagnant market for 88% of sales. And analysts expect a heavy bill for restructuring costs this year or next, after Chairman Jacques Calvet retires. Peugeot, which earned $350 million in 1995, is expected to report around $200 million for 1996.
The clouds gathering over France's auto makers have revived market talk of the need for the longtime rivals to merge. But Cortes, for one, thinks that's very unlikely since their product lines are similar, rather than complementary. If France's carmakers don't emerge from the coming restructuring lean and tough enough to stand alone, they may have to look outside France for partners.