business
Mobilemedia: Anatomy Of A Bankruptcy
Why were warning signs at MobileMedia overlooked?
Jennifer Reingold
Just a year ago, MobileMedia Corp., the country's second-largest paging company, was transmitting nothing but good news. A successful initial public offering had returned hefty paper profits to stockholders, new customers were signing on at a blistering pace, and two lightning-fast acquisitions costing more than $1 billion were winning praise. On Jan. 4, 1996, then-CEO Greg M. Rorke called MobileMedia's recent purchase of BellSouth subsidiary MobileComm "a milestone in the personal communications industry."
Millstone was more like it. In the end, integrating the two companies proved too much for MobileMedia to handle. On Jan. 30, the $567 million company filed for bankruptcy. While it is preparing to emerge from Chapter 11, MobileMedia still faces a Federal Communications Commission investigation into possible improprieties in the licensing process, as well as shareholder lawsuits and bitter creditors.
CUTTHROAT. In part, MobileMedia's decline mirrors that of the paging industry, which has lost some $4 billion in market capitalization since September, 1995, because of cutthroat competition and new technologies. But MobileMedia's woes go deeper. It suffered from poor management, a disastrous acquisitions strategy, and a disengaged board. "It's a tragedy," says one creditor. "It should not have happened."
But it did. And when MobileMedia crashed, nearly everyone connected with the Ridgefield Park (N.J.) company got burned, including executives, lenders, shareholders, and analysts who talked up MobileMedia's stock as it fell from a high of 29 1/4 in September, 1995, to about 1 in March. Their enthusiasm, typical of bull-market excess, continued long after glaring evidence to the contrary should have sobered them up.
One of the biggest hits to reputation and pocketbook was taken by Hellman & Friedman, the highly regarded San Francisco-based investment firm that made its name taking Levi Strauss & Co. private in 1988. H&F poured $180 million into MobileMedia, owned a controlling interest in the stock, and dominated the board, which changed CEOs three times in three years but still failed to avert disaster. H&F, which sat on paper profits of $347 million in the months after MobileMedia's June, 1995, IPO, referred all questions to a MobileMedia spokesman. The three former CEOs either could not be reached or declined to answer most questions publicly.
In theory, the acquisition strategy made sense. From a fragmented, local industry, paging was quickly becoming a business of scale. Since 1982, the top 10 companies have moved from a 28% market share to an estimated 70% in 1996. Convinced they needed an executive with broader experience to make MobileMedia a dominant player, the board brought in Rorke in October, 1994, replacing CEO Charles J. Payer Jr. With no telecommunications experience, Rorke, who had turned around Washington Post Co.'s Kaplan Educational Centers Ltd., was supposed to bring strategic thinking to his new job.
In August, 1995, Rorke completed his first acquisition, snapping up Dial Page Inc.'s paging operations for $189 million. That was just a warmup. A month later, the company announced it would buy BellSouth Corp.'s paging arm, MobileComm. The $930 million deal doubled MobileMedia's subscriber base to more than 4 million and made it No.2 in the industry, behind Paging Network Inc. Although MobileComm's subscriber growth rates had slowed, investors were thrilled: On Sept. 15, MobileMedia stock hit its all-time high of 29 1/4.
There was no shortage of heavy hitters willing to help fund the deal. In November, the company raised $355 million through a secondary offering at 23 3/4 a share led by Lehman Brothers Inc. and issued $250 million in subordinated debt. The next month it opened a $750 million credit line with a Chase Manhattan-led group of banks, pushing debt to nearly five times cash flow at the company, which lost $44 million in 1995. Says Glenn W. Marschel, CEO of Paging Network: "They overpaid."
Even worse, merging the two companies proved tougher than anyone expected. A customer service center in Dallas, one of two sites where Rorke hoped to consolidate MobileComm's 26 centers, choked on its share of the company's 1.8 million new subscribers. Operators sat around waiting for calls that were never patched through, and customer service rapidly deteriorated. "You could page yourself and it would take seven to 10 minutes," says Kenneth A. Toudouze, a Dallas securities analyst and MobileMedia customer.
Former executives acknowledge they underestimated the problems. And, in the rush to meet Wall Street's growth expectations, MobileMedia kept adding new customers: 300,000 in the first half of 1996 alone. Meanwhile, customer turnover rose to 3.8% in the first quarter, from 3.6% in 1995's fourth quarter. Despite the growing difficulties, former executives said they had no signal the board was worried.
RED FLAG. The numbers should have told the story: MobileMedia's operating cash flow fell from $50.5 million in the fourth quarter of 1995 to $43.6 million in the first quarter of 1996. Nevertheless, MobileMedia's May 13 press release--reporting record first-quarter revenues--was titled "Acquisition integration running ahead of schedule."
So, it seems, were expenses. Just three weeks later, on June 6, MobileMedia announced a private stock offering to help pay skyrocketing integration costs that helped push MobileMedia's overhead expenses up 50% in the first quarter. Shares fell 19%, to about 14. On June 26, with cash flow stalled, MobileMedia was forced to ask bank lenders to loosen the covenants on its line of credit. Predictably, missed supplier payments followed, including some to its primary pager supplier, Motorola Inc.
That finally kicked the board into action. In late July, H&F general partners John L. Bunce Jr. and Mitchell R. Cohen flew to New Jersey and, insiders say, fired Rorke. MobileMedia says he resigned. "The reaction was to shoot [Rorke]," says a creditor. "That caused the company to go into a tailspin." Two other top execs soon followed. In the aftermath, the offering was halted, and H&F heavyweight F. Warren Hellman joined the board. Board member David A. Bayer, a frequent co-investor with H&F, became acting chairman and CEO.
Two weeks later, Bayer announced CEO No.3: Michael K. Lorelli, then president of the Americas Div. at Tambrands Inc. and a former PepsiCo Inc. marketer. The choice of a marketing specialist surprised some, given the financial crisis. Still, analysts remained upbeat. In the last week of August, both Smith Barney Inc. and Lehman reaffirmed their buy recommendations. But it soon became obvious that Lorelli was a bad fit. "The agenda of the CEO's office changed very substantially since my first conversations with the board," he says. "Lorelli was a deer in the headlights," says a supplier. On Nov. 19, after less than three months on the job, Lorelli resigned, collecting an exit package of almost $1 million.
Before leaving, Lorelli dropped another bombshell. On Sept. 27, the company announced that it had discovered "certain errors" in its FCC licensing applications. In applying for approval to expand, the company had overstated the number of transmitters it had in place, a violation of FCC rules that could result in heavy fines. If nothing else, the errors show the degree of chaos at MobileMedia. Motorola stopped shipping equipment in November and MobileMedia filed for Chapter 11 on Jan. 30.
The aftershocks have been felt far and wide. Although creditors have approved payments to Motorola and a few other key suppliers, others were not so lucky. Greg L. Reyes, CEO of Wireless Access Inc., a Santa Clara (Calif.), developer of next-generation pagers, doesn't expect to see the $700,000 MobileMedia owes his company anytime soon, part of the reason Wireless postponed its own IPO. Unsecured creditors hold some $500 million worth of bonds now trading at less than a fifth of their original value. Shareholders have filed suit against MobileMedia and Lehman, alleging the brokerage was too upbeat about the paging industry. Lehman analyst John L. Bauer III left the brokerage in October and could not be reached for comment.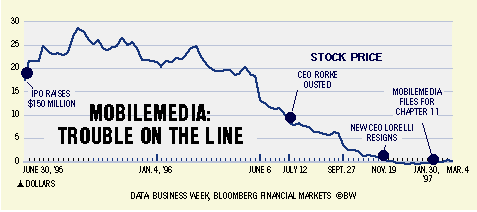 While MobileMedia still has more than 4 million subscribers, its challenges are formidable. Rivals have swooped in to capture market share. Forced to abandon plans to upgrade its technology, the company risks falling behind. Chief executive No.4, Ronald R. Grawert, who was hired from GTE Corp. on Feb. 10, has a strong technology background, but that may not be enough. "There's been a gap in serious management," says one analyst. "It's a real mess."
In the end, the H&F-dominated board remains the only constant at MobileMedia. "It was said what they touch turns to gold," says a former executive. "I'm sure they're not proud of what's happened." In a statement, Bayer, who is still chairman, acknowledged mistakes. "In retrospect," he said, "the timeline for the integration of the two companies was too aggressive and there were differences between the companies that were not fully accounted for." Translation: We blew it.
Before it's here, it's on the Bloomberg Terminal.
LEARN MORE