In Thailand, The Banks' Holiday Is Over
Bangkok finally tells lenders to write offbad debt--or merge
by
For months, Thailand's top economic officials have been the target of blistering criticism from investors and analysts for failing to address a crisis in the country's banks and finance companies. But did investors cheer when Finance Minister Amnuay Viravan on Mar. 3 kicked off an overhaul of the beleaguered industry? No way. As soon as a controversial one-day suspension of trading in bank and financial shares was lifted on Mar. 4, they rushed to sell, sending the Bangkok stock market to near its five-year low (chart). The suspension infuriated many in Bangkok. "It's unbelievable," says Asia Equity country manager Mark Greenwood.
The sell-off was triggered by Amnuay's announcement a few days earlier that troubled Finance One Public Co., the nation's largest finance and securities group, was being taken over by Thai Danu Bank, a midsize lender that Finance One had tried to buy only last year. Still, after denying for so long that Thailand's financial sector was under heavy stress, the government of Prime Minister Chavalit Yongchaiyudh is getting credit from some observers for taking action. With the collapse of a real-estate bubble in Bangkok, banks and finance companies are now struggling with $15.5 billion in bad loans. "The government is finally acknowledging that these problems exist," says economist David Cohen of MMS International in Singapore.
To address the crisis, Amnuay is forcing banks and finance companies to write off bad loans. Like Finance One, weaker players must agree to management overhauls or mergers with stronger partners. Some may even go under.
LIQUIDITY SQUEEZE. To offset some of their nonperforming loans, banks will have to set aside an additional $920 million over the next two years. Finance companies will have to come up with $1 billion. While such big, entrenched players as Bankgok Bank of Commerce and Thai Farmers Bank will be able to raise the additional reserves, smaller finance companies will be hit hard. "This will drastically reduce earnings," says Michael W. Seto, banking analyst at Morgan Stanley Asia in Hong Kong, who estimates that some finance groups' earnings will fall as much as 60%.
The new reserve requirements should speed up a long-overdue consolidation of the finance industry, which has been hit by a liquidity squeeze on top of bad loans on property and autos. In recent weeks, GE Capital Services and SBC Warburg have increased their stakes in two local finance companies, while France's Banque Paribas agreed to purchase a securities firm from Finance One.
LOOSER POLICY. The pain of Amnuay's moves will be felt by more than the financial sector. With the economy slowing, corporate earnings fell 2% last year, and no recovery is in sight, comments an economist with a Western investment bank in Singapore. One reason for the economic slowdown: Bank of Thailand's fight to prevent a devaluation of the baht. To keep the baht within its target range--currently 25.9 to the dollar--Bank of Thailand is intervening in currency markets and keeping interest rates high. Three-month interbank rates are now at 12.75%, and while lower rates would help ease the problems of banks and finance companies, the central bank's hands are tied by concerns that looser monetary policy would wreak havoc with the baht's peg to the dollar. Because Thai companies have some $90 billion in loans denominated in dollars and other foreign currencies, a devaluation could deliver a huge blow to the entire economy.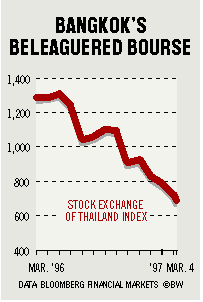 The government appears to recognize that reality. Indeed, Commerce Minister Narongchai Akrasanee told reporters recently that the government is willing to sacrifice some growth to keep the currency strong. As a result, analysts estimate that the gross domestic product will expand only 6% in 1997. That's down from last year's 6.7% and a far cry from the 8% average annual growth Thailand enjoyed over the past decade.
Having started the financial restructuring process at last, government leaders may figure that they're finally on top of the case. But before they can claim victory, the Thai economy will suffer some more pain to atone for its past easy-money excesses.
Before it's here, it's on the Bloomberg Terminal.
LEARN MORE