Highballing Toward Two Big Railroads?
Conrail's buyout by CSX and Norfolk Southern may clear the way for a pair of coast-to-coast giants
Joseph Weber
The bigger they get, the better they get. Seventeen years ago when the U.S. railroad industry was deregulated, some 40 sizable carriers lumbered over the nation's rails. Many were losing money or barely profitable, and trucking lines were stealing their business by the ton. But consolidation of railroads is accelerating like a runaway locomotive--and as it does, the emerging rail giants are winning back business. Some 40.6% of intercity freight now chugs behind locomotives, up from 35% in 1978, says the Association of American Railroads. "You've seen the industry really stop the incredible hemorrhaging...the massive loss of share in tons transported," says Harvard business school Professor Willis Emmons.
On Mar. 3, rail consolidation reached another milestone. Directors of Conrail Inc. accepted the concept of a plan under which the big Northeast freight line will be carved up by CSX Corp. and Norfolk Southern Corp. That will leave just four major U.S. railroads--and will open the way for the possibility of a final consolidation down to just two railroads, each spanning the continent.
Conrail's decision to accept a breakup came after pressure from Norfolk Southern Chairman David R. Goode. Until he came along with counteroffers, the onetime government-owned Conrail was ready to sell itself intact to CSX in Richmond, Va. Now, CSX is expected to buy Conrail for $10.3 billion, about $2 billion more than it first planned, then turn around and sell half of Conrail's routes to Norfolk Southern.
Shippers are pleased. Soon, two major railroads--Norfolk Southern and CSX--will compete for a Northeast freight market monopolized by Conrail since it was created in 1973 out of the bankrupt Penn Central Transportation Co. and several other lines. "If you end up with competing railroads, shippers have got to view that as a plus," says Edward M. Emmett, president of the National Industrial Transportation League, a nationwide organization of more than 1,000 shippers. And both lines can look forward to increased efficiency, since they will be able to reach customers directly instead of handing off traffic to Conrail, as they do today.
LOSERS, TOO. That is, if Goode, CSX chief John W. Snow, and Conrail managers can work out the final details. Aside from divvying up routes, they are likely to take several other steps aimed at assuring increased competition--and winning the seal of approval from the Federal Surface Transportation Board. For instance, they may set up jointly owned terminal railroads in cities such as New York and Philadelphia, Conrail's base. Shippers in those hubs could use the terminal lines to move cargo onto both carriers.
Certainly, the government and shippers are intent on keeping the orderly--and mostly beneficial--consolidation of the freight lines on track. Mergers have increased economies of scale and reduced time- and money-wasting handoffs of traffic among different lines. The average cost of moving freight has plunged about 24% (or 54% in inflation-adjusted terms) since 1981, says the Association of American Railroads.
But there have been losers, too. Prices in regions with no rail competition are about 15% to 20% higher than in those where competition exists, says M. Stuart Blanton, transportation procurement manager at DuPont Co. Says Blanton: "You'd be hard-pressed to find any major shipper who doesn't have that concern." Tetra Technology Inc., a $200 million-a-year Woodlands (Tex.) producer of road salt, has reallocated production among its Western plants because prices are so much higher at those served by just one carrier. "There's no way the railroads will operate on a competitive basis unless they're told to," says Tetra transportation chief James F. Jundzillo. "I wouldn't."
The key question is what lies further down the track. Some industry analysts speculate that the four major rail carriers could dwindle to just two, with each of the remaining Eastern roads joining one of the huge Western lines--Burlington Northern Santa Fe Corp. (BNSF) and Union Pacific Corp. Those giants were born in earlier mergers (Union Pacific has absorbed Southern Pacific). Senior officials of CSX privately concede that the reworking of the Eastern system lays the groundwork for eventual transcontinental deals.
If that happens, will consolidation have gone too far? Plenty of shippers are worried about dwindling competition, particularly in the West. The Surface Transportation Board, which oversees rail mergers, was so worried last year about consolidation in the West that it made Union Pacific Corp. (UP) rent out some 3,550 miles of track--a huge grant of so-called trackage rights--to rival BNSF to run competing trains. Otherwise, UP would not have been allowed to push ahead with its $5.4 billion acquisition of the Southern Pacific (SP) line. Even so, some critics are worried that UP won't give BNSF full freedom on its tracks. "BNSF doesn't own it. They can leave tomorrow," warns Barry A. Williamson, a member of the Texas Railroad Commission, which fought the merger of UP and SP. Some shippers can go back to the trucks, but producers of such bulk goods as coal and salt have no alternative.
ROUND THE BEND. In the past three years, battles to remake the system have rivaled the dueling of the rail barons of the late 1800s. Critics ranging from the Texas Railroad Commission to the Justice, Agriculture, and Transportation Depts., along with shipper groups, were blistering in their criticism of the UP-SP pact last year, for instance. After the Western deals, some critics lobbied for extensive changes, even suggesting that carriers be forced to open all lines to all competitors--much as interconnecting natural-gas systems carry one another's products. "Let's reframe the debate to shippers' rights," says John T. Estes, head of the Coalition for Competitive Rail Transportation, a shipper group.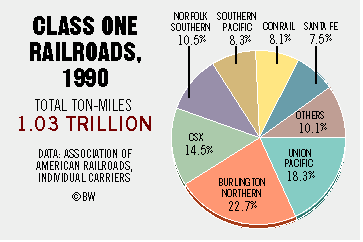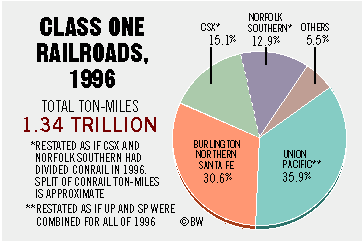 Such notions send rail execs round the bend. Policing such a system, they say, would mean reviving aggressive Washington oversight--which died in 1995, along with the Interstate Commerce Commission. "It's an effort to reregulate the railroad industry, and it would put us right back into the 1970s, when everybody was going down the tubes," charges UP's Davidson.
But if the Eastern rail network comes together as Goode suggests, rail execs and shippers alike will have plenty to be happy about. Soon enough, they may get the chance to fret over how transcontinental competition will shake up the system anew. Meanwhile, in the East, the coming competition between the CSX and Norfolk Southern systems looks like the light at the end of a very long tunnel.