business
Europe Inc. Starts To Get Wired
With U.S. rivals outdistancing them, more companies join the Information Revolution
Gail Edmondson
Europe Inc. Starts To Get Wired
With U.S. rivals outdistancing them, more companies join the Information Revolution
Gail Edmondson
It was a painful moment for European executives and politicians. At a recent gathering of the world's corporate elite in Davos, Switzerland, Intel Corp. boss Andrew S. Grove and Microsoft Corp. chief William H. Gates III blasted Europe for failing to embrace new information technologies. A growing gap between U.S. and European companies on the use of high-tech tools from E-mail to intranets, they warned, is threatening the already struggling European economy.
There's a lot of truth in that charge. The U.S. now outspends Europe 2 to 1 on information technology. Europe lags behind in the use of E-mail, the number of PCs per employee, and the number of companies deploying intranets. But pooled numbers and averages mask a more complex story: Europe already has companies that are savvy in info tech, and they are concentrated in countries where deregulation and restructuring are most advanced. So companies in Britain, Holland, Scandinavia, and Switzerland are ahead of their counterparts in Germany, France, Spain, and Italy in adopting new technologies--and not far behind the U.S.
More spending is coming as the pressures created by global competition and further deregulation unleash a huge wave of restructuring projects. The Apr. 1 deadline for airline deregulation will force inefficient carriers to pursue long-delayed rationalization programs, which go hand-in-hand with technology spending. There's telecom deregulation set for Jan. 1, 1998, which is spurring tech spending as such old-line German industrial companies as Veba and RWE gear up to challenge Deutsche Telekom. There's the rush toward monetary union in 1999, which is forcing radical systems overhaul at European banks and insurance companies. And there's even upgrading going on as companies adjust to the problems created for computer systems by the arrival of the year 2000.
BROAD RANGE. Already, companies such as Microsoft, Netscape, and IBM report rising corporate spending on information technology in a number of industries. A recent survey of big European companies by Netscape Communications Corp. and International Data Corp. showed that more than 82% of British and Swedish companies will have intranets operating within one year, as will two-thirds of German companies and half of those in France. European industries spending big on information technology now include automobiles, telecommunications, banking, and insurance.
In a major rethinking of its information-technology systems, Swedish auto maker Volvo has asked IBM and Computer Sciences Corp. for proposals on a joint venture to manage its networks. The venture would handle everything from the manufacturing information systems inside Volvo's plants to high-speed networks that would connect the company with suppliers and link its global sales force.
Until recently, companies in Germany, France, Spain, and Italy were hamstrung, in part by the lack of advanced public telecom networks. But many of the networks have been upgraded in the past year or two. "The next big wave of spending is by corporations to improve their networks and link them to suppliers and customers," says Kevin Smith, principal at Booz, Allen & Hamilton in Amsterdam.
German auto maker BMW has been investing heavily in direct links between the company and its suppliers as well as in computer simulation to speed the development of new models. Wolfgang
Reitzle, managing director for research and development at BMW, says the new systems will cut the time to develop a new roadster by 50% over the next three to five years.
JUST IN TIME. Most European multinationals already are on a technology fast track. The more competitive the industry, the faster the change. Take French steelmaker Usinor Sacilor, which started eight years ago by introducing E-mail and a worldwide ordering system that cut processing time from 15 days to 24 hours. Now, it is using the Internet to offer better and faster service than rivals. By linking its corporate intranet to carmakers, the company now can deliver steel to the assembly line the hour that it is needed. "It is clear this [Internet] technology will profoundly change our commercial relations," says Guy Dolle, a deputy director.
Italian tiremaker Pirelli has also gotten wired. Since 1993, the $6.6 billion company has spent $100 million a year, or 1.4% of sales, on advanced information systems that link its global operations and provide real-time data on everything from orders and inventory levels to profits. Pirelli is also pushing its customers--tire dealers--to go digital quickly. With access to Pirelli's intranet, dealers can get the latest information on prices and models and order online. Already, roughly 5% of Pirelli's tire orders from Scandinavia arrive online, and its Web site is getting 400,000 hits a month.
Still, the obstacles to change in Europe are daunting. Many European executives still hoard access to information as a personal source of power. One company asked Microsoft recently to install an E-mail system--but only for top management, clearly missing the point about the power of E-mail to move vital information rapidly across borders, up and down hierarchies, and around the world. "You have to understand that information must be shared with business partners, with employees, with customers," says Usinor Sacilor's Dolle.
Could such wider access have given earlier warning of the problems at Credit Lyonnais? Eight years ago, directors at the ill-starred bank asked for access to the bank's information network, says one insider. The response was that the company's system couldn't accommodate the directors. Of course, politics and bad policy also played a role in the banking disaster that racked up billions in bad loans and losses.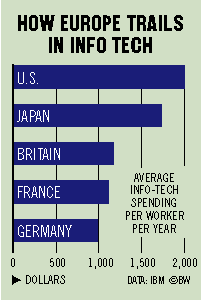 Europe's service sector, including retailing, is way behind U.S. rivals. But there, too, a catch-up effort has begun, driven in part by technology-savvy U.S. retailers expanding across the European landscape. Levi Strauss & Co., for one, is now starting a "personal pants" pilot project in Britain modeled on a computerized system developed in the U.S. that allows customers to have jeans made to their personal measurements.
A handful of retailers are starting to use technology to improve their delivery. Britain's Asda, Germany's Metro, and Italy's Standa are all investing heavily in tech. In Switzerland, Nestle is selling 15 products on the Internet through an interactive television trial. Fashion group Gucci is installing an intranet to link its operations with 25 suppliers throughout Tuscany.
If Grove and Gates return to Europe in a few years, they may be surprised to find a growing number of companies quietly proving their dire warnings wrong.