business
Commentary: Mc Donald's: Now, It's Just Another Burger Joint
Greg Burns
Commentary: Mc Donald's: Now, It's Just Another Burger Joint
Greg Burns
Viewed from McDonald's Corp.'s insular corporate campus in Oak Brook, Ill., the new plan to sell Big Macs and McMuffins for 55 cents made perfect sense. After all, declining same-store sales in the U.S. were the chain's most glaring weakness. What better way to put some sizzle in the top line than a bold pocketbook appeal?
Well, McDonald's executives should have realized there is, in fact, a better way. But apparently they took no notice of the fallout when Philip Morris Cos. announced deep cuts on "Marlboro Friday"--or of last year's "Grape Nuts Monday," when the Post unit of Kraft Foods kicked off a cereal price war. Predictably, "Hamburger Wednesday" on Feb. 26 sent investors on a Big Mac attack, slicing 9% off McDonald's share price in three days and dragging rival fast-food issues down with it. "It looks almost desperate," says Piper Jaffray Inc. analyst Allan F. Hickok of the 55 cents come-on. Adds Damon Brundage of NatWest Securities Corp.: "They have transformed one of the great brands in American business into a commodity."
GIMMICK. McDonald's executives compounded the damage by remaining silent for days while disaffected franchisees squawked. Although most eventually voted to approve the plan-- some urban operators, whose prices are always higher, voted no--the stock leveled off 5% below its recent average. That should be a lesson for all companies trying to hit home runs on Wall Street when base hits on Main Street are in order. McDonald's brass should have articulated a comprehensive U.S. strategy: Investors need to know the chain has a better response to sluggish domestic sales and stiffer competition from rival Burger King Corp. than starting a new price war.
As it stands, investors and franchisees have good reason to worry: The 55 cents sandwich deal seems likely to cheapen the brand and erode future earnings power. Meantime, Burger King continues to play the discount game adroitly with 99 cents sandwich deals: Its marketing efforts have been superior, and consumers say its food simply tastes better.
In theory, McDonald's plan will pay off because customers only get the discount if they buy a drink and potatoes, too. Yet that gimmick-within-a-gimmick threatens to undermine pricier "Extra Value Meals," one of the chain's most successful recent marketing initiatives. Consumers expecting cut-rate combos won't go back to paying full price, especially if other fast-feeders discount their package deals. And McDonald's will have to push hard to make the 55 cents deal pay. Same-store sales will need to rise by more than 2%, franchisees and analysts estimate--a tough challenge
for a chain that probably was heading for another down year in the U.S.
There's a better way to boost sales long term. First, McDonald's needs to slow an overly aggressive U.S. unit-expansion plan. In a drive for market share, the chain added 1,130 units in '95 and an additional 726 in '96. But cannibalization has weakened some older units, and newer ones aren't generating enough volume. McDonald's has been sending mixed signals, saying it's backing off but also hinting it will open as many as 720 new stores in '97 and bring the U.S. total to nearly 13,000. To restore investor confidence, it must present a coherent strategy for new construction. McDonald's also needs to correct a key misstep of '96: The much-criticized launch of "Deluxe" sandwiches. The high-priced line's anti-kid advertising turned off the chain's most important customers.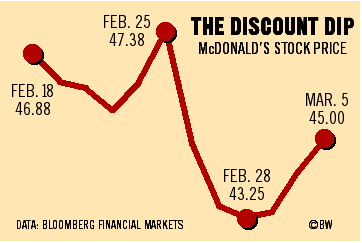 GUMMY BUNS. More fundamentally, McDonald's needs to burnish its marketing and brand-building efforts. McDonald's is capable of making great ads, and it enters 1997 with a new effort from its longtime ad shop Leo Burnett Co. and with Walt Disney Co. as a merchandising partner. Surely, opportunity knocks.
To take advantage of that opportunity, McDonald's must address its biggest weakness: The quality of its food has slipped behind that of Burger King and Wendy's. Those new buns taste gummy. How about going back to toasting them? And, please, add the lettuce and tomato at the last minute instead of letting them wilt on a hot patty. Franchisees say McDonald's USA Chairman Jack M. Greenberg made one concession recently, telling them it's OK. to season the burgers again. Let's hear it for fewer price cuts and more salt and pepper.