Commentary: Greenspan Is Right To Stake Out Wall Street
With the market now so crucial to so many, the Fed must keep a cautious eye on stocks
Dean Foust
Time was when a Federal Reserve chairman's musings about the stock market were almost as rare as sightings of Halley's Comet. But these days, it seems Alan Greenspan frets about overvalued stock prices whenever he opens his mouth.
Greenspan's sudden candor about his market fears has generally played poorly with Congress and Wall Street. Testifying before the House Budget Committee on Mar. 4, Greenspan was criticized by Representative Jim Bunning (R-Ky.) for "jawboning" the market. Rosanne M. Cahn, an economist for Credit Suisse First Boston Corp., blasts Greenspan's "hubris" for thinking he can analyze stock prices better than the experts: "Why is it the business of the chair of the Fed?"
The answer is simple and compelling: The market is, increasingly, a central force in the banking system that the Fed was created to oversee. For tens of millions of Americans, the market--not passbook accounts or money-market funds--is where they stash their savings for retirement or educating the kids. It is a revolutionary change--too big for the central bank to ignore.
GOOD MOVE. That's why Greenspan has piloted the Fed into new waters. The chairman insists that he would never raise interest rates solely to deflate the market. But he makes it clear that market trends may play a decisive role in future Fed rate decisions. And this important shift in the Fed's monetary calculus is wise.
Consider the sheer size of the market. Before the 1990s, the total market capitalization of publicly-traded equities averaged 48% of the nation's gross domestic product. It reached a peak of 81% in 1987--just before the crash. Today, capitalization stands at 110% of GDP, calculates James A. Bianco, research director for Arbor Trading Group Inc. in Barrington, Ill.
And, there is no indication that the stock market's growing presence in the economy will fade. For one thing, with stock prices at record levels, companies that used to raise funds by borrowing are increasingly issuing stock instead. More important to Greenspan are the millions of first-time investors racing into the market. Today, some 84 million adults own stocks, double the rate of the late 1980s, according to a poll by Peter D. Hart Research Associates. Three-quarters of the money in mutual funds has been invested since 1990. That means the market's vicissitudes have an enormous impact on consumer behavior and attitudes.
Indeed, Greenspan is keeping his eye on what consumers do with their newfound wealth. The Fed chairman has been awaiting evidence of the "wealth effect"--the economic axiom that consumers will spend some 3% to 5% of their newfound wealth. If consumers start taking their profits out of the market and into the stores, Greenspan & Co. will be right there watching. At the first sign of such an inflationary buying binge, they'll pounce. It wouldn't take much: Bianco calculates that if investors spent even 2% of their gains since 1995, GDP growth would jump a full percentage point.
CORRECTION. The Fed is also concerned about the converse: the "loss-of-wealth effect" from a sharp market downturn. Investors shaken by a market rout could pare their spending--with dire consequences for the economy. Sung Won Sohn, chief economist for Minneapolis' Norwest Corp., fears that a steep 20% correction could pare consumer spending by $100 billion and trigger a recession.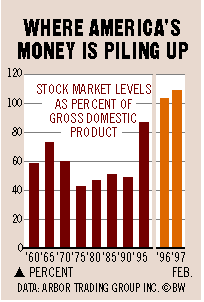 With the potential for such a dramatic macroeconomic effect, Greenspan has good reason to be watchful of Wall Street. But the Fed chairman shouldn't try to micromanage the level of the market. That's not his job. Greenspan himself agrees. "It would be most inappropriate if indeed that is what I was doing," he said in a speech on Mar. 5. But it is appropriate that a central banker today be ready to deal with the economic consequences of a soaring or plummeting market--and to put investors on notice. Right now, the market is the wild card in the economic deck--and it may well determine how Greenspan plays his next hand.
Before it's here, it's on the Bloomberg Terminal.
LEARN MORE