Canada: Budget Balancing Is On Fast Forward
by
Canadian consumers and businesses went on a shopping spree in the fourth quarter. And the economic pickup will help the effort to balance the budget.
Real gross domestic product grew at an annual rate of 2.9% last quarter. The gain was less than expected, but the October strike at General Motors Corp. contributed to a 10.1% drop in exports that had been the key driver of the recovery. Domestic demand jumped at a 7.5% clip, the fastest rate in a decade (chart). Outlays for business equipment and homebuilding remained very strong, a sign that 1996's drop in interest rates is spurring demand.
Private economists and the government expect real GDP to rise more than 3% this year. Exports will bounce back, lifted by steady growth in the U.S. and better economic gains in Europe and Asia. In addition, interest rates will remain low because inflation is benign--consumer prices were up just 2.2% in January--and because the government has made great strides in taming its budget deficit.
In fact, the Liberal Party government of Prime Minister Jean Chretien is a year ahead of schedule to balance the budget. For fiscal 1997, which ends on Mar. 31, Ottawa says the deficit will total 19 billion Canadian dollars (U.S. $13.9 billion), or 2.4% of GDP. For 1998, the gap will likely fall to C$17 billion, and a balanced budget is expected by 2000.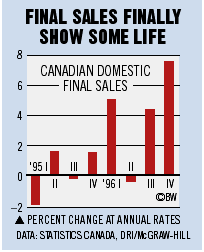 The Liberals are expected to take advantage of Canada's improved fiscal outlook and healthy economy by calling for a general election in early summer. All signs suggest they will win, but not surprisingly, the new budget contained some modest goodies for voters, including a child-poverty initiative and new spending on farming and education.
But the budget offered little to boost private employment. The jobless rate, though down from November's 10%, was still high at 9.7% in January. And businesses were disappointed that the budget did not have more tax relief, which would ensure that the expansion barrels along into 1998.
Before it's here, it's on the Bloomberg Terminal.
LEARN MORE