A Shot In The Arm For Humana
by
A not-so-funny thing happened to Humana (HUM) over the past two years. As the Dow Jones industrial average advanced more than 3,000 points, Humana shares went nowhere in 1995 and slumped from 27 to 17 in 1996. Humana continued to meander this year--until Mar. 3 and 4, when the stock zoomed to more than 21 on volume of 2 million shares each day, compared with an average volume of 600,000 shares. The reason: takeover.
Humana, one of the nation's largest providers of managed health care, is the target of at least one big insurer, according to money managers who have been avidly buying shares. These pros think that Humana, which serves 4.4 million members in its health-maintenance organizations and preferred-provider organizations, has had talks with the potential buyers and is expected to reach an agreement before long. They think that the company, which has a market capitalization of about $3.4 billion, should fetch $4.5 billion to $4.8 billion, or 28 to 30 a share, in a buyout.
"Humana is now the prime target among HMOs," says analyst Robert Gold of Standard & Poor's. That's the only reason to be bullish about Humana, he adds, noting that it has struggled in recent quarters to maintain profit margins and meet earnings expectations.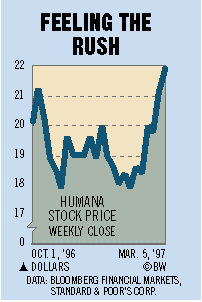 As insurers consolidate, several have been acquiring HMOs in the hope of bolstering their role in managed care. "They recognize that is where their big future growth lies," says Gold.
The most recent insurance deal is CIGNA's $1.4 billion agreement in early March to buy Healthsource--tagged earlier by this magazine as a takeover target (BW--Dec. 30). Some investors reckon CIGNA may swallow Humana, too. Gold, however, thinks the most logical acquisitor is Prudential Insurance. "Prudential hasn't been too successful in health care, so it needs to go into managed care in a big way," explains the analyst. Humana's top brass were traveling and couldn't be reached. Prudential denies the rumor.
Before it's here, it's on the Bloomberg Terminal.
LEARN MORE