The Rothschilds' Hedge Fund Guru
Georges Karlweis is courtly, conservative--and a big winner
Stanley Reed
On a quiet street not far down the hillside from Geneva's venerable St. Pierre Cathedral is the Banque Privee Edmond de Rothschild. If you were considering investing your money there, what you would find inside the redoubtable stone building would not discourage you. The dark red wallpaper and Dutch Old Masters paintings convey an air of authority and prudence. So does Georges Coulon Karlweis, the courtly banker you might be meeting for lunch.
Karlweis, 68, the bank's vice-chairman and top investment strategist, has been managing money for Edmond de Rothschild since 1959. And conservative as he may seem with his dark suit and carefully weighed phrases, Karlweis is one hell of an audacious--and successful--investor.
Back in 1969, Karlweis launched a pioneering offshore mutual fund, Leveraged Capital Holdings, with a simple concept: Instead of buying stocks or bonds, he put all the fund's assets into several hedge funds. These vehicles were then so esoteric that few investors had encountered them. But the idea turned out to be a solid moneymaker. Over its 28-year life, LCH has achieved a tidy average total return of 15.6% a year (chart). What's more, it has made the rarefied world of hedge funds available to small investors as well as large. While many hedge funds require huge minimum investments, LCH shares can be had on the Amsterdam Stock Exchange, or via London's Edmond de Rothschild Group, for about $100 each.
DIVERSITY. The $650 million fund's secret? Swiss money managers are famously closemouthed--and Karlweis rarely breaks ranks. But recently, he agreed to sit down with BUSINESS WEEK to explain what makes his fund tick. His mantra: Maintain a broadly diversified portfolio that is nearly always skewed toward the best-performing funds on earth. Indeed, Karlweis' approach to picking managers is very hands-on. He looks for solid track records, but he also gives careful attention to personalities, singling out dedicated students of the markets who take smart risks. Before investing in a new fund, at least three LCH board members must interview its managers. The only things that matter, Karlweis says, echoing the old saw about real estate and location, are "the manager, the manager, the manager."
Such close attention to managers is more important than ever to Karlweis. An unabashed admirer of things American, right down to his Lands' End shirts, Karlweis has all of the fund's assets invested with U.S.-based managers. He also has at least 75% of the fund invested in the U.S. But he thinks the long bull market is making U.S. stocks risky, and he questions whether American corporate-profit growth will continue to match what has been achieved recently by restructuring and heightened productivity. So Karlweis is looking for insurance by picking funds run by "traditional, hedged stock-pickers" who try to insulate their portfolios against market declines. Karlweis acknowledges their short positions were a drag on performance in the past couple of years. But he figures that hedged strategies will eventually be rewarded if a tougher market starts to punish the overpriced stocks of weaker companies.
In fact, while fast-moving global "macro" funds, such as George Soros' Quota and Quantum, now make up 24% of LCH's assets, Karlweis has placed nearly twice as much with more risk-averse U.S. equity managers. His largest position is currently with New York-based Zweig-DiMenna International Ltd., managed by market gurus Martin E. Zweig and Joseph A. DiMenna. Since LCH started investing with the duo in 1989, they have returned an average of 19% a year and have never lost money. Karlweis notes that they currently have significant short positions in the U.S. and can be expected to protect money in a falling market.
But true to his philosophy of diversification, Karlweis is also sticking with some U.S. growth-stock managers. Arguing that growth stocks still fetch a relatively low premium over the rest of the market, Karlweis favors money manager William P. Stewart, another New Yorker, who has returned 16.3% a year since Karlweis found him in 1986. Right now, says Karlweis, Stewart is betting on Intel Corp. and First Data Corp.
Karlweis got the idea for a fund of hedge funds in the late 1960s, when he was traveling to New York to place some of his bank's money with several hotshot young market players, including Soros and Michael Steinhardt. As he recalls, these wizards often came up with brilliant ideas, but their performance could be erratic. He thought he could smooth out their results by creating a portfolio of several of their funds. Karlweis was also influenced by Bernard Cornfeld, the founder of International Overseas Services, a huge Swiss-based mutual-fund group eventually looted by financier Robert Vesco.
EXIT STRATEGY. Unlike IOS, however, Leveraged Capital Holdings has remained in the pink. That could be in large part because Karlweis keeps close tabs on the 20 or so managers handling LCH assets. He demands that they provide monthly reports, and he makes frequent visits to the U.S. to see them.
Karlweis recently dropped one prominent manager--he won't say who--when his reports of strong performance did not jibe with the fund's portfolio. After making inquiries, Karlweis learned that the big gains were from the sale of one investment. Thinking these results were unlikely to be repeated, Karlweis showed him the door. He also tells of severing LCH's ties with Michael R. Milken. The onetime Drexel Burnham Lambert Inc. junk-bond king had racked up 72% annual gains for LCH by buying distressed securities. But Karlweis says he grew disenchanted when Milken stuffed the portfolio with junk bonds sponsored by Drexel. So in 1983, he and Milken parted company--well before Drexel and the junk-bond market collapsed.
Such obsessive attention to the funds' holdings has worked well, rewarding Karlweis--who has made LCH his largest personal investment--and many others. In fact, shares of LCH bought for $2 apiece at its launch in 1969 would be worth more than $100 now. Moreover, the fund has pumped out high-quality returns. Over the past 10 years, it has been less volatile than the Standard & Poor's 500-stock index while chalking up only a marginally lower performance. That puts LCH in a select group, says Nicola Meaden, chief executive of London-based TASS Management Ltd., which tracks hedge funds. "There are very few funds of funds with a long track record and excellent performance," she says.
Meaden says that the low cost of entry to LCH also makes it an excellent vehicle for small investors to gain exposure to top hedge-fund managers. "This is extremely unusual," says Meaden. "I am not aware of any other hedge fund of this caliber that allows small investors to take part." Like many offshore funds, LCH is not open to investments from U.S. citizens and residents. It may be opened to American institutional investors in the future, however.
VIENNESE ROOTS. Unlike Edmond de Rothschild, Karlweis was not born to a banking family. The son of a well-known actor in Vienna, he moved to France in 1938 and survived the war years, along with his Jewish father, under false papers. Karlweis first got involved with financial markets in 1946, when he got his first job as a trainee covering the Paris Bourse for a French newspaper. Ten years later, he joined de Rothschild as a commodities trader.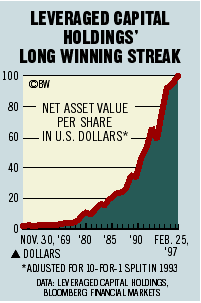 At 70, de Rothschild is still active in his financial empire, which includes banks in Lugano, Lausanne, Luxembourg, and Paris, as well as Geneva, but he prefers to leave LCH to Karlweis. And Karlweis prefers to keep asset-shuffling to a minimum. He turned over a scant 15% of his portfolio in 1996, and in a recent yearend review, only 3 of 20 or so positions were closed out. He has kept some managers on for 15 years or more. But new managers usually get no more than $2 million to $5 million to start. "Big mistakes always come in the first two years," he says.
Karlweis insists he has no plans to retire but says he is readying a solid team to succeed him. Still, he has made some concessions to age. He recently gave up skiing. Now, he sticks to golf--and watching the markets with the advantage of five decades of experience.
Before it's here, it's on the Bloomberg Terminal.
LEARN MORE