Spain: Euro Targets May Be Within Reach
By
Spain is making swift progress toward its entry into a single-currency Europe. After last year's sluggishness, economic growth is picking up and inflation is at a 27-year low. The government seems to have met its 1996 deficit target of 4.4% of gross domestic product, and the outlook suggests it will come close to the 3% mark for 1997 required by the Maastricht Treaty.
The Bank of Spain recently projected that fourth-quarter GDP rose 2.5% from a year ago, up from about 2% earlier in 1996. The faster clip means that 1996 growth will come close to the government's 2.3% goal. The latest data suggest that the quicker pace will continue, led by consumer spending and exports. Consumer confidence surged in December and January, and household spending last quarter rose strongly. Manufacturing is also improving. Industrial production rebounded in December, fueled by rising orders, especially from abroad, and manageable inventory levels. If sustained, as expected, the pickup should allow the government to meet its 3% growth target for 1997.
The outlook for consumer inflation, which fell to 2.9% in January, is also bright (chart). Goods prices are under control, although service inflation is more stubborn. Still, slower wage growth, along with the government's plan to broaden its policy of cuts in administered prices to include prescription medicines and telephone rates, will offset the upward pressures.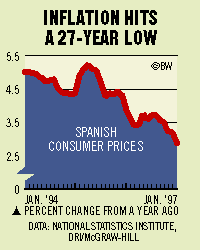 With inflation under control, the Bank of Spain will continue to cut interest rates in an effort to counter the drag from fiscal belt-tightening. It has cut the benchmark policy rate from 9% in early 1996 to the current record-low 6%, and another reduction is imminent. Recent weakness in the peseta, reflecting the dollar's strength and Spain's Euro uncertainty, prevented the central bank from acting after the January inflation news. The bank will proceed cautiously, though, because the government must meet its targets for both growth and inflation to assure that it reaches--and can maintain--its deficit goal.