Pakistan's Declaration Of Independence
Sharif will use his mandate to reduce the foreign debt load
Shahid-Ur-Rehman Khan
Pakistan's newly elected Prime Minister Nawaz Sharif comes to office with a big problem--a cash crunch. With foreign reserves down to $800 million, the country has a $787 million loan payment due by the end of March. To stay afloat, Sharif is resorting to an unusual tactic. He's asking the 3 million Pakistanis living abroad to send at least $1,000 home to banks in Pakistan. Those who remit more than $1 million get a national medal. "I need foreign exchange immediately," Sharif said in a televised address on Feb. 23. "I am depending on the people of Pakistan and the brothers, sisters, and elders living abroad." In less than a week, he had $150 million.
SHACKLED. The drastic plea is only the beginning for Sharif, a 48-year-old textile and sugar tycoon out to rebuild an economy in shambles. He is embarking on a series of austerity measures he says are designed to rid Pakistan of "the shackles of foreign debt." He has banned duty-free cars for government officials, pledged to slash the budgets of various ministries, except defense, and downscale the bloated civil service. Proposed cuts include his own cabinet, which he intends to halve from the previous 30 ministers, and his secretariat--down to 50 people from 1,500.
Sharif has a clear mandate for reform. After a stint as caretaker Prime Minister following the sacking of Benazir Bhutto in November, he was returned to power with a two-thirds majority in Parliament. "There is nothing the Nawaz Sharif government cannot do, given the parliamentary majority with which he was returned," former Prime Minister Moeen Qureshi told a local newspaper. "A great opportunity has come his way to put the country back on track."
Dependence on foreign loans has been eating away at Pakistan's economy. Its currency has been devalued 50% since 1995 as debt payments have swelled to $2.6 billion per year. The country now owes foreign lenders, including the World Bank and International Monetary Fund, $39.3 billion, most of which Sharif says was squandered by previous governments.
In addition to austerity, Sharif will have to raise government revenues if he is to break the borrowing habit. "There is absolutely no choice," says Shahid Javed Burki, vice-president of the World Bank and a former Pakistani finance minister. "They have to bite the bullet." And that includes ending some of the tax breaks now enjoyed by many Pakistanis. At present, much manufacturing is located in tax-free zones; Sharif's own House of Ittefaq textile and sugar mills, for example, pay little tax. And only about 1 million of Pakistan's 132 million people pay income tax. Professionals, such as doctors and lawyers, who make up 50% of the GDP, pay only 2% to 3% of total taxes collected. "They have to be brought into the tax net," says Burki.
TAX REFORM. But Sharif so far has been reluctant to raise gasoline and electricity taxes as required by IMF lending conditions. "To me, it is a crime to take loans for which we have to extract blood from our people by increasing prices and levying new taxes," Sharif said. Privately, however, Sharif has asked the IMF for help in restructuring the taxation system.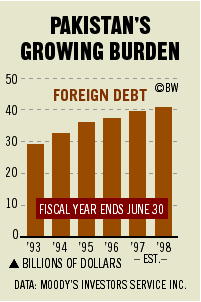 Even if Sharif is able to reduce dependence on foreign loans, many doubt he will be able to overcome Pakistan's most insidious problems: corruption and nepotism. Sharif did little to instill confidence in his new government when he appointed his younger brother, Shahbaz, as chief minister of the Punjab province. But stung by the legacy of the Bhutto government, which was dismissed on charges of rampant corruption--and his own dismissal on corruption charges when he served as Prime Minister in 1990-1993--Sharif has pledged reform to foreign investors. No Pakistani official would
demand a bribe, he declared. "It will take time," says Burki. "But the only way you can begin to address corruption is to reduce the size of the government." In that regard, Sharif is off to a running start.
Before it's here, it's on the Bloomberg Terminal.
LEARN MORE