Nordic Moneybags Call On Alumax
by
It seems that Alumax (AMX), once before the quarry of a suitor, is destined to be ever pursued by ardent wooers--until finally won. This time around, Alumax, the nation's third-largest aluminum maker, is said to be talking to a party it likes: Norsk Hydro, Norway's largest listed industrial company.
"They are in serious discussions, and the buyout price for Alumax looks to be in the 55-a-share area," says one investment banker who isn't part of the current talks but has contacts among people in the know.
In February, 1996, Alumax rejected an offer from Kaiser Aluminum of about 45 a share. Last year, it posted revenues of $3.2 billion and earnings of $5.19 a share. Alumax, a maker of aluminum ingots and aluminum and steel products for the construction and transport trades, operates more than 100 plants and other facilities in 30 states, Canada, and Europe.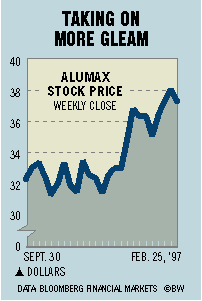 Norsk had revenues of $12.6 billion last year. Its three principal businesses in North America are aluminum extrusion (a way of processing aluminum), fertilizer, and offshore oil and gas interests in Newfoundland. It made $1.1 billion in 1996, or $4.93 a share.
One stakeholder, Tony Hitschler at Brandywine Asset Management, says that, even at 55, Alumax is a bargain for any suitor. Based on fundamentals alone, Alumax is worth 50 a share, he says. Alumax spokesman Dan Loh declined comment. Norsk CFO Leiv Nergaard says the company doesn't comment on its acquisition plans.
Before it's here, it's on the Bloomberg Terminal.
LEARN MORE