Maybe The Dow Only Looks Dangerous
New yardsticks indicate that the bull still has room to run
by
Do the stratospheric heights of the U.S. stock market reflect a new era--or simply new levels of irrational exuberance? That was the question lobbed into the financial markets by Federal Reserve Chairman Alan Greenspan in his testimony before the Senate Banking Committee on Feb. 26. The markets interpreted his comments as debunking the view that the economy had entered a sustainable euphoric high, fueled by low inflation, strong corporate profits, and high productivity. The Dow industrials responded by plunging as much as 122 points before closing down 55 points, to 6,983, and the 30-year Treasury bond yield jumped from 6.66% to 6.78%.
Is Greenspan's skepticism merited? Perhaps. But a chorus of Wall Street strategists argue that many of the tried-and-true yardsticks of value are no longer valid. By their new math, stocks aren't wildly overvalued or headed for a huge fall. The market may not keep up its recent torrid pace, but the bulls say the trend will still be upward--propelling the Dow Jones industrial average and the Standard & Poor's 500-stock index 10% higher in 1997.
NO STING. The case for this "new era" analysis rests on changes in the U.S. economy that have made companies more efficient. "Cyclical inflation has been disarmed by the intensified competition that has become a way of life for Corporate America," says Prudential Securities Inc. chief investment strategist Greg A. Smith. The rise of the information economy and sharper global competition take "a lot of the sting out" of the late stages of a business cycle, when rising prices and inflation are expected, he says. If the economy doesn't get shocks from a sudden rise in food or energy prices, Smith says inflation could fall to 2% this year. And that, he predicts, could lead to a 7500 Dow in 1997.
Another bull is Goldman, Sachs & Co.'s market guru, Abby Joseph Cohen. Lower inflation expectations, she argues, are stretching out the business cycle by restraining consumer spending and keeping business inventories lean. Cohen recently warned clients that stocks may stay in a trading range for a while. But, she says, "that doesn't mean we've changed our bullish view. The fundamentals are still very strong in the U.S. We have ahead of us a very long-lasting period of additional economic and profit growth."
It doesn't necessarily require new math to justify current market valuations. Jeffrey M. Applegate, Lehman Brothers Inc.'s chief investment strategist, looks back to the bull market of the early 1960s. From 1961 to 1965, the "trailing" consumer price index--the CPI measured for the previous 12 months--averaged 1.3%, and the trailing p-e on the S&P 500 stayed above 18, save for a short correction in 1962. And from July, 1962, to January, 1966, the S&P 500 index rose 90%. The situation is similar today, with the trailing CPI at 3.3% and the S&P 500 p-e multiple at 19.6. The lesson, says Applegate: "The market appears to have gotten ahead of itself, but not wildly so." He thinks the S&P 500 could end 1997 up 17% to 20%.
Of course, believing that "this time it's different" has undone investors in the past. But Peter J. Canelo, chief investment strategist at Dean Witter Reynolds Inc., notes that an unusual set of factors are converging: "A good economy, inflation nowhere to be seen, earnings coming in better than people expected, a very strong U.S. dollar helping to keep inflation down and bring money into our markets." Factor in a likely capital-gains tax cut and, he concludes, the Dow has not reached a level that signals a major correction.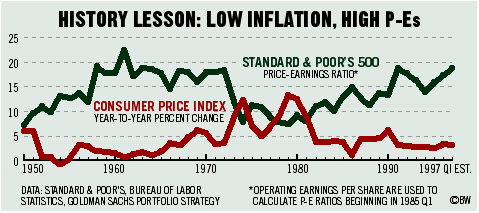 Even growling bears can't predict a top. "Assuming we're in a new era and don't know when it will end, you've moved so far past any gauges useful in measuring it that we can't predict an upside target," says Andrew Engel, senior research analyst at Leuthold Group in Minneapolis. Still, Engel says he can envision a slide of 30% to 40% this year.
If the old rules don't apply any- more, can we forget the old saw that zit's foolish to fight the Fed? Greenspan's threat of a possible "preemptive" rate hike to safeguard against inflation is sure to ratchet up interest-rate jitters. But even if rates do go up, "it's just not true that rising rates necessarily kill off a stock market," insists Canelo. The question now: Is that wishful thinking? Or a new era dawning?
Before it's here, it's on the Bloomberg Terminal.
LEARN MORE