business
A Suitor For John Alden?
By
A Suitor For John Alden?
By
Despite the frisky Dow, many stocks have yet to join the grand bull market. One laggard is John Alden Financial (JA), a group-life and -health insurer whose shares have languished between 16 and 18 this year, down from 21 in September. That frustrates stockholders but delights the money pros who have been buying lately.
They reckon that, as insurers consolidate, John Alden is in line for a bid from a biggie. These money managers put the takeover value of John Alden at 25 to 27 a share, based on the valuation of other industry buys.
The most recent major deal was American General's Feb. 13 announcement that it would acquire USLIFE, previously tagged as a target in this column (BW--Jan. 20). The pros now buying into John Alden are the same bunch that sniffed out USLIFE. They argue that, with John Alden's stock trading near its 52-week low of 16 3/8, the company has become much more vulnerable. According to one trader, investor Richard Rainwater is a big John Alden stakeholder.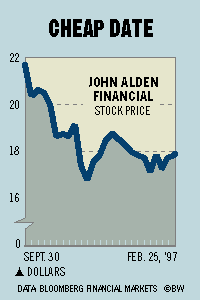 In December, John Alden's board authorized a poison pill that--in the event of a takeover--guarantees to shareholders one preferred-share purchase right for every common share they hold. It's possible, however, that "the buyout we expect will be a friendly deal," says one hedge-fund manager.
John Alden's chief market is South Florida, where it has formed a health-maintenance organization embracing 3,800 doctors and 22 hospitals. John Alden has been downsizing lately. In December, the company signed an accord to sell its annuity business to SunAmerica for about $240 million. The sale, says Standard & Poor's analyst Brendan McGovern, enables John Alden to use part of the proceeds to finance the growth of its health-care unit. Analysts expect Alden to post earnings of $1.29 a share this year and $1.35 next.