Who's Messing With The Japanese Market?
A stock dispute spotlights the pitfalls of Japanese trading
by
Hiroshi Teramachi is well known around Tokyo as chairman of THK Co., the patriarch of one of Japan's richest industrial families, and a high-stakes investor in everything from Chinese medicine to knitting machinery. So nobody lifted an eyebrow when a caller named Utsugi phoned Compagnie Financire de Paribas' Tokyo asset-management unit late last year and said Teramachi wanted to buy 856,000 shares in a small auto-parts maker, TDF Corp. Nor did any alarm bells sound when Nomura Securities Co. received a buy order from Teramachi's company for 1.7 million more shares of TDF on Jan. 17. Nomura, after all, was THK's underwriter, and it's not uncommon for clients to put in big orders by phone and see them executed immediately.
Now everybody is running for cover. Teramachi, 72, whose company makes precision bearings, denies having approved the $85 million worth of orders and refuses to accept the shares. With the status of the trades unclear, TDF shares have plummeted 85% on the over-the-counter market (chart), leaving Nomura and Paribas with combined losses of as much as $72 million if they get stuck with the stock. "We feel we are the victims of a large manipulation," says a Paribas spokesman in Paris. A Nomura spokesman says only that the firm is having a dispute with an unidentified client and is mulling legal action to recover any losses. "Nobody knows the truth," says Noriko Takahashi, an analyst at UBS Securities Ltd. who has been following the dispute.
FROWNED ON. The incident is giving the public a rare glimpse of how the shares of small, thinly traded companies such as TDF can be easily manipulated by speculators. One Western fund manager and the Japanese business magazine Zaikai claim that TDF was the target of a trading technique known as "catch ball." In this game, which is frowned upon but isn't illegal, members of a ring buy and sell stakes of a company among themselves to drive up its share price. Then they sell out, leaving unsuspecting investors holding the stock as it falls. The reports may explain why even in a falling market, the automobile parts company's shares soared more than 1,000% in late 1996 and early this year before they finally plummeted back to earth.
Whether Teramachi himself played any role in the gyrations of TDF's stock is unknown. According to one market rumor, the industrialist may even have been double-crossed by another speculator who placed the buy orders at Paribas and Nomura without his knowledge. Teramachi could not be reached for comment. But he has told Japanese newspapers that he didn't order any TDF stock--and doesn't know who did. His company also maintains that all it did was give Paribas Asset Management Japan Ltd. $24 million to buy Italian bonds on Nov. 20, only to see its request canceled in writing by Utsugi and changed into an order for shares of TDF.
Utsugi's first name and whereabouts have not been revealed. But THK says his cancellation notice did not bear Teramachi's official seal, and it is demanding its $24 million back. Paribas, meanwhile, says the president of its Japanese asset-management unit, Kazuki Adachi, stepped down in January. Paribas maintains that Adachi handled the purported THK orders personally, bypassing the company's internal controls. He could not be reached for comment.
SOY BET. Teramachi has been in hot water with investors before for making market bets that have gone awry. Before he assumed control of THK, which he took public in 1989, Teramachi ran Nippon Thompson Co., a manufacturer of industrial bearings that he founded in the 1950s. In 1969, Nippon Thompson invested in the soybean and silk markets, only to come out a big loser. A year later, stockholders forced Teramachi to cover the losses by selling his controlling stake in the company.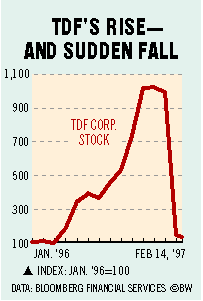 Last year, Teramachi raised $180 million from investors. He plowed much of the cash into Japanese stocks and Nikkei index funds. With the Tokyo market down 12% since THK made the moves last September, the company is sitting on $24 million in paper losses, says UBS's Takahashi. THK's shares have fallen a third from last year's highs, to $8.90 apiece, as concerns mount that it might sell its stakes in several other companies to pay for trading losses.
On Jan. 27, THK announced that Teramachi had resigned and that his son, Akihiro, had taken over as president. That did little to calm investors' nerves. Unless THK settles its arguments with Nomura and Paribas soon, things could get even nastier for the Teramachi clan.
Before it's here, it's on the Bloomberg Terminal.
LEARN MORE