Where Have All The Soldiers Gone?
Monica Larner
Most Italians avoid the Sunday train that travels up the peninsula to Udine in the Alps. This "military express" is filled with rowdy young draftees, who cram onto the seats around me, their oversize green duffel bags spilling into the thin corridors. They board at Florence and Bologna, returning to duty after 36 hours of home leave.
During the cold war, almost half of all draftees in the armed forces were stationed in the Italian Northeast, along the Austrian and Slovenian borders. Up to 15,000 draftees lived either in Udine, a city of 100,000, or on 40 nearby bases. Now, that number has fallen to 3,500, and it continues to decline.
Although the cold war has ended, the draft, or leva, continues. Italy is one of the few European nations with mandatory military service. All Italian males, 18 through 26, are subject to the leva. But the draft costs Italy $2 billion annually, and draftees haven't been shipped out of Italy in 50 years. So in January, the legislature began passing a series of reforms. The leva stays, but the number of draftees has been slashed.
DODGERS. Last fall, Italy reduced the length of the leva to 10 months from 12. Now it wants to allow conscientious objectors to substitute 13 months of civil service. Starting next year, the army will accept both female and immigrant volunteers to replace the draftees. Currently, there are 175,000 draftees and 26,000 volunteers in the Italian forces. The goal: a 50-50 split by the year 2000.
Draftees stationed here in Udine seem to favor reform. Most are members of the elite Julia Alpina Brigade and are experts in skiing and rock climbing. I see them in Udine's arcaded central square at sunset, when they get off duty. They're easy to spot because of the hats they wear, each adorned with a single eagle feather. At the 14th Division headquarters of the Alpina Brigade, Daniele Pasian, 25, says: "Let us choose whether or not we want to do it." Drafted last April, following graduation, "I had to put all the knowledge I learned in school in the freezer," he says.
Draftees such as Pasian claim reforms would curb draft-dodging, an art that has reached scandalous proportions in Italy. Some of my male friends took extended trips abroad when they turned 18. One tried to fake insanity during the medical exam by shutting his right eye when asked to close his left, and vice versa; he wound up in the army--assigned to latrine duty. Others looked for relatives in the military hierarchy to give them a raccomandazione for special treatment.
But many members of the military brass, such as the brigade's commanding officer, General Gianfranco Marinelli, say any change will hurt both the army and Italian men. Military discipline, he says, is the Italian male's best hope of shedding mammismo--the overly sentimental attachment between mother and son that keeps him tied to her apron strings. He calls it the social plague of Italy. "The Italian mother teaches her son to do things for himself," he says. "Once they come to live in our barracks, they learn to do things for Italy."
PULLOUT. In his elegant office in a converted convent, sitting beneath the Alpina insignia of a crowned eagle perched on the Alps, General Marinelli shudders at the idea of female volunteers. They "would put the whole system in crisis. We could never permit it." The military has are no separate sleeping facilities for women, he says. Besides, he adds with a shrug, Italy is a Latin country.
Udine is already suffering from a military pullout that began when the cold war ended. A decade ago, the area had 1 draftee for every 7 citizens; now it's 1 for every 30. Many bars and restaurants have gone under.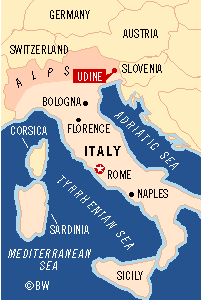 The rustic Trombone Pizzeria, where 90% of the customers are leva soldiers, has been a military favorite for 150 years. It gets its name from a World War I scuffle in which a drunken soldier was thrown out of the cafe, leaving behind his musical instrument. While profits have dropped a third, owner Malfalda Cuomo is an optimist. "I live by the proverb: `Dio vede e prevede' (God sees and foresees)," she says.
Another change in the leva will affect Udine: Draftees will be assigned to bases close to home to help them avoid homesickness. That doesn't "serve any other purpose than to keep the trains less crowded," sniffs General Marinelli. But for my fellow passengers on the military express, it could be the biggest benefit of all of the changes in the leva.