U.S.: Still No Snake In The Economy's Eden
But how long can strong growth with low inflation last?
by
Nirvana continues, and Wall Street loves it. From all outward signs, the economy is beginning 1997 right where 1996 left off: an investor's paradise of healthy growth, strong profits, low inflation, and an idle Federal Reserve. That's why the Dow Jones industrial average bulled its way past the 7,000 mark on Feb. 13. And if you expect this blissful combination to last, then you're probably part of the group chanting, "10,000 by 2000."
The January data certainly fit the scenario. A slowdown in industrial production and rising retail sales suggest continued--but cooler--economic growth compared with the scorching 4.7% pace in the fourth quarter. Corporate earnings last quarter were surprisingly strong, and analysts are upping their 1997 projections. Meanwhile, both wholesale and retail inflation remain notably benign (chart).
Given this kind of performance, the Fed has no reason to hike interest rates and every reason to hold policy steady. That's why Wall Street keeps charging ahead. Low interest rates and healthy profits are the main justifications for stock prices at these levels, at least based on traditional methods of market valuation. Higher interest rates would undercut stock values by making fixed-income securities more attractive and by threatening future profits.
THAT'S WHY THE DATA in coming months will be especially important for the Fed--and investors. Despite the latest numbers, there is still no clear sign that the economy has cooled down enough to eliminate totally the concerns about future inflation and a possible preemptive strike against it by the Fed. Those fears about the outlook are especially valid amid today's tight labor markets and accelerating wage growth.
First-quarter growth is set to slow, mostly because of an expected widening in the trade deficit, a reversal from last quarter's sharp narrowing that was due mainly to seasonal quirks. The December trade deficit jumped to $10.2 billion, after shrinking to about $8 billion in both October and November.
But consumers will be the key sector to watch. Forecasts of a cooler economy this year are predicated on slower consumer spending. However, the current combination of strong labor markets, faster wage growth, high consumer optimism, and rising household wealth means that consumer fundamentals support spending more than at any time in this six-year expansion.
The surge in stock values itself is fueling consumer spending. Although economists believe that the wealth effect on spending from rising asset values is small, equity values have risen by so much that the total impact undoubtedly has been significant. The proportion of households owning stock through any means rose from 32% in 1989 to 37% in 1992 to 41% in 1995, according to the Fed's latest Survey of Consumer Finances. That percentage has obviously risen further in 1997. Moreover, says the Fed, all income and age groups saw a "substantial" rise in stocks as a share of financial assets, with share ownership doubling, from 10% to 21%, for families of incomes less than $25,000.
The latest numbers show that January retail sales rose a healthy 0.6% from December, and they have already grown at an annual rate of 2.9% from the fourth quarter (chart). January unit sales of cars and light trucks were surprisingly strong, putting them well above the fourth-quarter level. Department stores also did extremely well, with sales rising a strong 1.3% in January on top of December's 0.8% advance. And weekly surveys suggest strong February buying.
UNLESS CONSUMERS LET UP--and that looks unlikely--the factory sector's momentum will continue to build. It didn't look that way in January, as industrial production failed to grow from December, and as capacity use edged lower, to 83.3% from 83.5% in December. But the January output numbers were skewed by the same bad weather that depressed the hours-worked data in the month's labor-market report. The Fed uses the Labor Dept.'s data on hours worked for many of its production estimates.
The production data most likely rebounded in February. Even though January output was flat, production started the first quarter at an annual rate of 2.4% above the fourth quarter. Autos are supplying an important boost: Output rose sharply in January and is scheduled to stay strong for the rest of the quarter.
A key support for production this quarter is lean inventories (chart). Stock levels at factories, wholesalers, and retailers fell 0.1% in December. Sales slipped by the same amount, but during the second half of last year, sales grew twice as fast as inventories, cutting the ratio of stock levels to sales to a record-low 1.39. The Commerce Dept. will likely revise fourth-quarter inventory growth downward, better enabling first-quarter output to grow in line with demand.
AS THE FOURTH QUARTER SHOWS, a strong economy means buoyant profits. According to BUSINESS WEEK's tally, aftertax earnings, excluding extraordinary items, rose 33% last quarter from a year ago, with a sales increase of 11%. In fact, profits were so surprisingly strong that several large securities firms, including Merrill Lynch & Co. and Salomon Brothers Inc., are raising their 1997 earnings projections.
Still, forecasts for growth in earnings of the companies in the Standard & Poor's 500-stock index cluster around 6%, according to Zack's Investment Research. That's down from the double-digit pace of the past five years. Will such a slowdown, if it occurs, justify today's soaring equity prices?
That question becomes even more important if the Fed feels compelled to lift interest rates. Of course, given inflation's conduct of late, a rate hike is hard to justify. The producer price index for finished goods fell 0.3% in January, and excluding energy and food, the core index was unchanged. Annual core wholesale inflation has slowed to 0.6%, from 2.2% a year ago. The consumer price index increased by a modest 0.1% in January, with the core index also up only 0.1%. Core consumer inflation slipped to 2.5%, a 23-year low.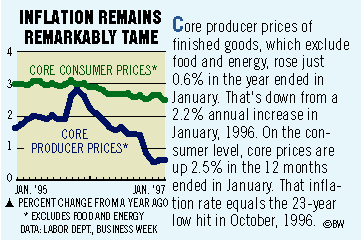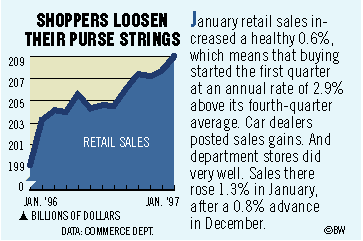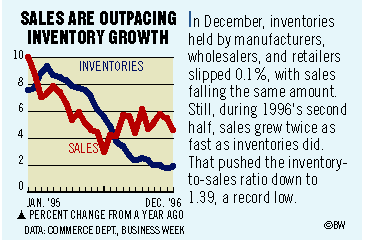 Moderation in both food and energy prices was the key feature of the January price performances, as the 1996 runup in both sectors appears to have run its course. Wholesale food prices dropped 1% in January from December, and crude oil prices have declined by about $4 per barrel since the beginning of the year. While that's good news for inflation, it will also free up additional buying power for consumers.
Nirvana will continue only as long as the economy shows it can grow strongly without generating higher inflation, because that's the recipe for good profits and low interest rates. But if business-cycle history is any guide, that delicate balance will be difficult to maintain as this mature expansion heads into its seventh year.
Before it's here, it's on the Bloomberg Terminal.
LEARN MORE