This Steelmaker May Be A Steal
Jeffrey M. Laderman
In the information economy and in a technology-driven bull market, steel stocks have all the pizzazz of a slag heap. Look at LTV (LTV), which sells at 123/8. True, it's up from 10 in November. But the stock is still $1 below the 52-week high it hit in September. Meanwhile, the Standard & Poor's 500-stock index has climbed nearly 25% since September. Philip Schettewi, managing partner at Loomis Sayles and portfolio manager for the new Loomis Sayles Strategic Value Fund, thinks the steelmaker is a bargain, capable of producing a 50%-
to-70% gain this year.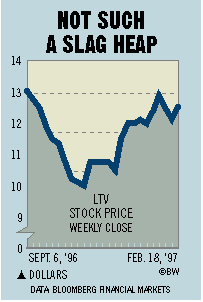 Schettewi's not banking on rising prices for steel. LTV is attractive all by itself. The once onerous unfunded pension liabilities are nearly fully funded. It has about $6 a share in cash, and the company plans to buy back up to 5% of its stock. And insiders, including CEO David Hoag, are also buying shares.
Paul Latta, a steel-industry analyst at Seattle's Ragen Mackenzie, says LTV looks good in its peer group. "LTV beat the consensus earnings forecast every quarter last year," he says. "Most steelmakers did not." It also earned $1.01 a share in 1996--about as much as the Street forecast for 1997. Schettewi thinks this year's profits will reach $1.25. If it starts to look as if he's right, the rest of the Street will be scrambling to boost estimates. And that can do wonders for a stock.
Before it's here, it's on the Bloomberg Terminal.
LEARN MORE