Rivals Are Buzzing All Around Lufthansa
European deregulation makes it vulnerable
David Woodruff
When Frederick Reid takes the controls at Lufthansa on Apr. 1, he had better strap in for a rough ride. Reid, the first American ever to head a non-U.S. air carrier, will fly straight into the final phase of Europe-wide airline deregulation, due to kick off the same day. For the first time in its 72-year history, Germany's flagship carrier will have to compete on even terms with rivals from upstart discounters to huge foreign airlines. At the same time, Reid may face strikes by Lufthansa pilots unhappy with the airline's cost-cutting plans.
Chief Executive Jurgen Weber on Feb. 10 picked the 46-year-old Reid, an American Airlines Inc. veteran whose first Lufthansa job was running its North and South American operations, to head its passenger business. His new mandate as president and chief operating officer: to cut costs further and streamline decision-making. Just five days earlier, the company had announced the next step in an ongoing management restructuring. The new reorganization will sweep away a layer of middle management and allow Lufthansa to respond more swiftly to changes such as price cuts by competitors.
TARGET. Frankfurt-based Lufthansa has made great strides in reducing costs in recent years. But Reid knows the airline must redouble its efforts or risk losing business in Europe's biggest, richest domestic market. With competition wide open, the downward spiral of fares that has already begun will only accelerate. Low-cost, no-frills lines such as Britain's Debonair Airways could grab hordes of Lufthansa customers. "This company has one more opportunity left to change fundamentally or go down the drain," warns one airline consultant.
Germany is a juicy target for rival airlines. Analysts estimate that fares are up to 20% higher than the European average. Lufthansa, which has a lock on some domestic routes, has been able to charge its passengers premium fares. In January, Germany's federal antitrust office accused Lufthansa of gouging customers on the Frankfurt to Berlin route, which it dominates. Business travelers pay $470 round-trip, vs. $380 on such longer routes as Cologne to Berlin, where Lufthansa has competition. No final ruling has been made.
Already, major competitors such as British Airways PLC are trying to siphon off Lufthansa passengers. For instance, BA offers restricted fares as low as $130 round-trip from Hamburg to its London hub, which Lufthansa has now matched. Since BA's costs are 25% lower than Lufthansa's (chart), it can better afford such price wars. Indeed, Lufthansa last fall warned that tougher competition would squeeze 1996 profits below the $500 million earned in 1995. To fight back, Lufthansa is negotiating to expand its alliance with United Airlines to include other global carriers, such as Air Canada or Thai International Airways.
Cut-rate upstarts are likely to pose a bigger threat to Lufthansa than the giant carriers. Already, Nuremberg-based Eurowings charges $250 to fly full-fare economy class from Cologne to Nuremberg, vs. $414 on Lufthansa. As the little guys expand in the wake of deregulation, Lufthansa will be squeezed.
Discount operators excel at short hops, where passengers care less about service. So Lufthansa is trying to shift more short-haul business to franchisees and partners such as Augsburg Airways and Contact Air. They fly under the name Team Lufthansa, but their operating costs are up to $40 an hour below Lufthansa's, estimates Uwe Weinreich, aviation analyst at BHF Bank in Frankfurt.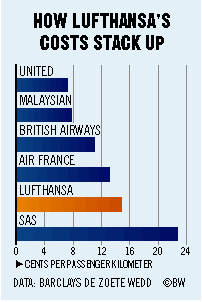 EARLY VOTE. To trim costs on its own flights, Lufthansa is trying to hold wages down and boost productivity. But the pilots' union, DAG, has balked at the 1.5% annual pay hike agreed to last fall by ground and cabin crews. The pilots are expected to approve a strike in voting that wraps up on Feb. 25. DAG's chief negotiator, Michael Tarp, is fighting for a bigger pay hike and to shorten the contract to 12 months. He says pilots worry that Lufthansa would use a longer contract to farm out more work to lower-cost franchisees, because German unions can't strike in the middle of a contract period.
A strike could come as early as Feb. 26. Industry experts are betting that Lufthansa will compromise rather than provoke a long strike that would allow rivals to swoop in. But company negotiators had better squeeze out some productivity gains in return. Otherwise, Reid will have less chance to survive the looming dogfight.
Before it's here, it's on the Bloomberg Terminal.
LEARN MORE