France: A Backdoor Boost To The Economy
by
After last year's economic sluggishness, French executives and consumers began 1997 on a cautious note. But an indirect easing of monetary policy may push spirits higher later on.
In the latest survey by the National Institute of Statistics & Economic Research (INSEE), business executives say that production slipped in January, and total demand remained weak. The most improvement came in overseas demand, which has helped to pull up the index for overall industry prospects (chart). The index rose to 1%, the first positive reading in 1 1/2 years. However, another INSEE survey shows that businesses have cut back on their 1997 capital-spending plans. French companies expect to increase their outlays by only 4%, down from the 7% rise reported in the October survey. That works out to a 2% gain after adjusting for prices.
Consumers are also wary about the economy's outlook, and that may hold back spending. The household sentiment index stood at -34% in December. Unemployment and social program reforms are the big worries. December's jobless rate remained at a high 12.7%. And civil service workers plan a Mar. 6 strike to protest unacceptably low pay raises.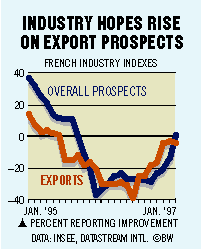 Prime Minister Alain Juppe's government has little room to deal with the unions. The 1996 deficit exceeded its target by 7 billion francs ($1.23 billion), bringing the gap to 4.1% of gross domestic product. The government has pledged to freeze 1997 spending in order to hit the Maastricht Treaty deficit-to-GDP goal of 3%.
To meet that target, the government expects real GDP to grow 2.3% in 1997, up from 1.3% in 1996. That's in line with private forecasts, but both projections depend on further interest-rate cuts by the Bank of France. Right now, BOF officials are talking down chances of a rate cut. But on Feb. 13, the French central bank cut bank reserve requirements by 13%. That's a backdoor way of easing policy and lifting growth, since the cut adds money to the economy and reduces borrowing costs.
Before it's here, it's on the Bloomberg Terminal.
LEARN MORE