Cisco's Skid
Why its stock got hammered after it met projections
By
Intel Corp. and Microsoft Corp. may be the blue bloods of chips and software, but when it comes to the arcane world of computer networking, Cisco Systems Inc. rules. The 13-year-old company dominates nearly every area of networking equipment. More than 80% of the Internet's routers--the specialized computers that direct data traffic over the Web and yonder--come from Cisco. That has helped Cisco rack up annual revenue growth averaging more than 80% over the last four years. Its stock has been one of the hottest in the high-tech sector, peaking at 75 3/4 on Jan. 21. That gave the company a market capitalization of $50 billion, exceeding that of General Motors Corp.
With such a spectacular rise, it was only a matter of time before investors would start looking for the first sign of a slowdown. It may be here. Routers remain Cisco's core business at 25% of revenues and 35% of profits, but revenue growth in that segment will be only 30% this year, says analyst Eric Blachno at Bear, Stearns & Co. Sales in Europe, where Cisco gets 29% of its business, are sluggish. And Cisco's plans to update many of its products later this year could make customers hold off purchases.
The result: For the first time, revenues will increase by only 5% this quarter over the previous quarter, estimates Prudential Securities Inc. analyst Luke T. Szymczak. That's half the rate during the previous six months and one-quarter last year's blistering 20% quarter-to-quarter increases.
"CHALLENGING." What's more, this comes on the heels of a quarter that already troubled investors. On Feb. 4, the company met but did not exceed Wall Street's earnings expectations for the quarter ended Jan. 25. Cisco produced revenues of $1.59 billion and earnings of $338.5 million--86% higher earnings than the previous quarter and 61% more than the same quarter last year. But Cisco has blown past expectations for so long that investors read "slowdown" into the quarter, plunging its share price more than 10 points, or 15%, in the following week. As of Feb 18, the stock was still off 15 points from its peak.
Slower growth doesn't seem to be worrying Cisco's management much. "We're headed into a traditionally challenging quarter," concedes CEO John T. Chambers. But with a projected $6.5 billion in sales this year, even a slower rate of growth is expected to translate into strong earnings. Prudential's Szymczak expects Cisco to boost revenues and earnings by 59% for the year.
That doesn't mean Cisco is out of the woods. The company also faces a threat from new technology called "Internet Protocol switching." Supporters of this technique claim such devices can transmit data across networks five times faster than routers. The new switch technology is "the biggest threat to Cisco we've seen in several years," says analyst Paul Callahan of market researcher Forrester Research Inc. The switch was developed by startup Ipsilon Networks Inc. and is being pushed by Cisco rivals 3Com, Cascade Communications, and IBM.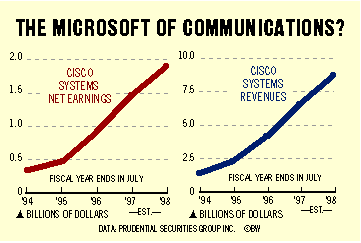 Cisco is proposing an enhancement to its routers called "tag switching." That technique speeds up networks by moving groups of data into an express lane that passes through the router. Chambers argues that customers demand these sorts of incremental upgrades. "You've got to be able to protect the installed base of routers," he says. Analysts say that the new Internet Protocol switches are incompatible with one another.
Chambers insists that Cisco already has a better solution. He attributes the volatility of Cisco's stock to concern over its competitors. Cascade, Shiva, and 3Com spooked investors with a string of earnings disappointments over the last few weeks. "You're just seeing a little more nervousness in the industry as a whole," he says. "People are for the first time seeing that there's going to be a shakeout, with real winners and losers." He figures he knows which one Cisco is, but some investors still harbor doubts.