Carnage Doesn't Scare The Oilmen...But They're Not Taking Any Chances
Jan Ellis
The British oilman reclines in his armchair in the luxurious Hotel Sofitel, gazing out over white-stuccoed Algiers sweeping back from the glistening bay. In the streets outside, elite troops man barricades protecting the hotel against terrorist attack. Comparing the hazards of doing business in Algeria with those of other petroleum hot spots, such as Burma or Azerbaijan, the oilman shrugs. "Show me an easy one," he says. "From the oil industry's point of view, this couldn't be better. It's a rich environment, because Algeria's vulnerable."
Vulnerable indeed. February's atrocities included the mass murder of 28 villagers at Ain Desla by forces of the Armed Islamic Group. On Jan. 28, an anonymous gunman assassinated labor leader Abdelhak Benhamouda. Early in February, a number of teenage girls were kidnapped from towns on the capital's outskirts. And this outburst is only the latest escalation of the violence that has taken some 150,000 lives, out of a population of 30 million, since 1992. That was when the military junta cancelled elections that the Islamic opposition was poised to win.
Rather than accepting any responsibility for the insurgency, President Liamine Zeroual, a retired army general who has led the country since 1994, blamed the recent wave of bloodshed on foreign provocation. Three months ago, Zeroual force-fed the voters a new constitution in order, officials admit, to override the threat of a parliament to be elected sometime this spring. The Islamic Salvation Front that dominated the elections five years ago has been banned, and its most compelling leader, Ali Belhadj, disappeared into the prison system in 1995. "The regime looks more and more bogus all the time," remarks the vice-president of a U.S. oil major with a stake in Algeria.
Bogus, however, doesn't seem to scare the big players. Last year, Western oil companies signed contracts committing them to invest more than $6 billion. They're spending millions more on fortified oil camps in the Sahara. The West extended credits to Algeria last year of $600 million, largely to cover imports and hydrocarbon development. A second sub-Mediterranean pipeline began delivering gas in December, part of a campaign to double exports--and help meet Europe's voracious demand--by the end of the century.
EXPLOSIVE SOUP. But outside the oil fields, the economy is a disaster area. Unemployment among Algerians under 30, who make up three-fourths of the population concentrated in the coastal cities, is estimated by the U.S. State Dept. to be 70%. The average worker earns less than $150 a month, and 180,000 government workers haven't been paid for more than a year.
All this leads observers to wonder whether the oil companies and foreign governments should be pouring so much money into such an explosive soup. "What the West doesn't understand," says one weary European diplomat, "is that this is like supporting the Shah or Somoza. They think there aren't any reasonable options to Zeroual. It's like endorsing a catastrophe three to five years down the line."
Shimmering in the heat of the Saharan sun, high walls of corrugated iron topped with barbed wire surround the oil company compounds at Hassi Messaoud. This desert garrison is the nerve center for the "energy zone," which Algiers put off limits to everyone but essential personnel and local residents two years ago.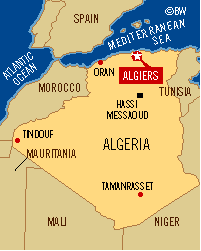 One can never be too careful here. Foreign staff arrive on direct charter flights from Paris and Zurich, guarded by mercenaries when they land. Inside Anadarko's encampment, sentries open the gate cautiously for an uninvited guest, then scan the car for explosives and weapons before unlocking a second, electrified fence. Anadarko, a Texas independent, has made a name for itself with a gusher that rivals Saudi production rates and has no intention of leaving even though more than a dozen foreign workers have been killed since 1995.
"As the threat increases, we'll ratchet up security as best we can," an American executive explains, "in order to become the hardest target around. Then maybe the terrorists will aim for something else." Cross your fingers, oilmen.