Bombardier Is Doing Barrel Rolls
It grabs the lead in the fast-growing market for small jets
William C. Symonds
They're the little planes that could. For years, pilots for major airlines looked down on the "puddle-jumpers" used by regional carriers to ferry people to small towns. But nobody in the airline business now is sneering at a new generation of these small craft--and the sweeping changes they are making in the industry. As they evolve from cramped rattletraps to modern jets, the small planes are making regional carriers the fastest-growing sector of the airline industry--and forcing big players to pay attention. Indeed, American Airlines Inc.'s attempt to expand its fleet of regional jets has been one of the sticking points in its ongoing labor strife with pilots of its big jets.
The company getting the most out of the trend is Bombardier Inc., which fomented the revolution with its 50-seat Canadair Regional Jet (CRJ)--and made itself into the Boeing of regional plane builders. The Montreal-based company last year grabbed 42% of the world market for 20- to 90-seat jets and turboprops, up from just 10% in 1992. Bombardier is the "clear industry leader," says Jim Robinson, president of rival Fairchild Aerospace Co.
DISASTER. And Bombardier is aiming for more. On Feb. 19, it unveiled a $475 million program to develop a 70-seat regional jet, the CRJ series 700. The $23 million plane won't be available until late 2000. But Bombardier thinks demand will eventually exceed that for its existing 50-seat CRJ. The goal: grab 60% of the regional aircraft market, worth $110 billion over the next two decades.
Bombardier has built this success from the wreckage of Boeing Co.'s disastrous foray into the business of making puddle-jumpers through its 1986 acquisition of Toronto-based de Havilland Inc. By the time Boeing sold de Havilland to Bombardier in 1992, the aircraft giant had lost nearly $1 billion building Dash-8 turboprops. Bombardier has invested heavily to update the Dash-8 family, tripling its share of the turboprop market--which last year accounted for nearly two-thirds of the 314 regional planes sold worldwide--to 35%.
But the CRJ, which Bombardier began developing as a derivative of its Challenger business jet in 1989, is what gave wing to the company's fortunes. The jet, which Bombardier began delivering in 1992, went a long way toward erasing the image of regional planes as cramped, noisy, and unsafe. Charles E. Curran III, senior vice-president of Comair Inc., which has the world's largest fleet of CRJs, says the planes are quiet and as roomy as the coach sections of bigger jets. Their maximum range of 2,300 miles far outdistances turboprops, typically limited to trips under 500 miles.
Longer range has allowed the carriers to supplant the hub-and-spoke architecture of air travel with more point-to-point service. Air Canada has used its fleet of 26 CRJs to open more than two dozen new routes between the U.S. and Canada since 1995. Many, such as Winnipeg-Chicago are long, thinly traveled, and would not be viable if served by a bigger jet such as the 737. With a CRJ, Air Canada breaks even with just 22 passengers.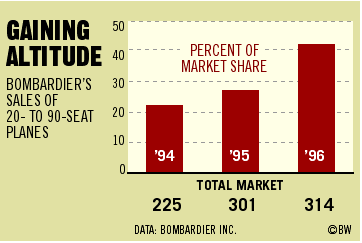 A SWARM. Bombardier's doing far better than that. Its Aerospace Div.--which includes both business jets and regional planes--should earn operating profits of $350 million on sales of $4.5 billion by fiscal 2000, up from an estimated $133 million on sales of $3 billion in fiscal 1997, says Benoit Chotard, an analyst at Montreal-based Levesque Beaubien Geoffrion Inc. The company also makes train cars, snowmobiles, and other transportation equipment.
It is no surprise that competitors are swarming. Brazil's Embraer last year began delivering its 50-seat RJ, the EMB-145. Meanwhile, Fairchild is developing a 30-seat regional jet for delivery in 1999. The No.2 in regional aircraft, AI(R), expects to announce its plans for building a 70-seat jet by the end of this year. So far, the rivals haven't dented Bombardier's lead. But as more and more of the little jets take to the sky, one certainty is that the big carriers won't be ignoring them anymore