Better Pickin's?
Jeffrey M. Laderman
In the l980s, the name T. Boone Pickens struck fear in Big Oil executive suites. But he was better at raiding other companies than running his own: Mesa (MXP) hasn't turned a profit since 1988. Last year, under shareholder pressure, Pickens turned to superinvestor Richard Rainwater. A Rainwater-led group put $130 million in equity into Mesa. An equal amount was raised through a rights offering. Then, Pickens stepped aside, and Rainwater chose Jon Brumley, a highly regarded oil-patch veteran, to take charge.
Now, Mesa's prospects are perhaps the best in a decade. The stock, at 53/4, is up from 3 last summer, and some think it could hit 8 this year. The Class A preferred shares, which pay stock dividends, trade at 7, and could hit 9. Still, Mesa is barely on Wall Street's radar. Kurt Wulff of Smith Barney is the only analyst to rate this Big Board company an unqualified buy.
Wulff, who has followed the industry for 30 years, is banking on Brumley, who built successful oil-and-gas companies in the 1970s and 1980s. Brumley's goal is to boost cash flow 25% in two years, and it looks as if the company may even turn a profit this year. "Mesa has always owned terrific assets," says Morris Mark of Mark Asset Management, which owns 2.8% of the outstanding shares. Adds Wulff: "Mesa's problem was that its cash flow was committed to debt service, with nothing left to invest."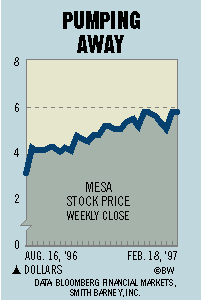 With plenty of cash and a $650 million line of credit, Brumley is making acquisitions that Wulff says will turn Mesa around. On Feb. 6, Mesa announced the $66 million purchase of MAPCO's natural-gas liquids and condensate reserves in Texas' West Panhandle field. Four days later, Brumley bought Greenhill Petroleum for $270 million.
Greenhill's main properties are two aging Louisiana oil fields that have already produced 1 billion barrels. Wulff says with new 3-D seismic mapping and horizontal drilling, it's possible to coax a further 100 million barrels from the fields. If he's right, the deal will be sweet--since Mesa's cost is based on 30 million barrels of proven reserves.
Before it's here, it's on the Bloomberg Terminal.
LEARN MORE