Audi's Rally Kicks Into High Gear
Can aggressive pricing keep its U.S. revival humming?
by
Barely able to sell one Audi a week, Robert Roseta was ready to quit the business two years ago. His Beaverton (Ore.) Audi dealership had been in the red for seven years as buyers snubbed the German luxury car, which long had been dogged by stories that one of its models had a dangerous problem with unexpected acceleration. "I was hanging on by my fingernails and I was beginning to think, `There's got to be a better way,"' recalls Roseta.
Turns out there was. Salvation arrived when Audi launched the spunky and stylish A4 sedan in late 1995, reviving a brand that had been given up for dead. The arrival of the A4 gave the company a chance to overhaul its whole organization, by slashing prices, simplifying its model line, and promoting youthful sportiness rather than German engineering. The result: Audi's U.S. sales soared 51% in 1996 as a hot new model finally put the brakes on a 10-year sales skid. Audi ran into trouble in 1986 when 60 Minutes ran a report about an alleged defect that caused some Audis to slip into gear by themselves. A federal probe exonerated Audi, and found that the cars lurched forward because of driver error. But the Audi image never recovered.
Until now. The A4 has caught on with upscale baby boomers and is turning Audi's U.S. unit, traditionally a blot of red ink on parent Volkswagen's balance sheet, into a moneymaker. The unit broke even last year, ending a string of losses, and is finally expected to turn a profit this year, says U.S. chief Gerd Klauss. "We are not the little stepchild anymore," boasts Klauss. "We are on the threshold of getting into the mainstream."
Next up: A midsize sedan that can deliver more profits than the A4, which starts at $23,490. The A6, to be unveiled in Geneva on Mar. 4, is expected to start below $35,000 when it hits U.S. showrooms this fall. That will give it relatively aggressive pricing in a segment where it will compete with BMW. Analysts are optimistic that Klauss can keep a pricing edge. The dollar's strength against the mark has been helping all German auto makers lately. But Klauss has made undercutting the prices of German rivals by thousands of dollars a central tenet of Audi's revival strategy. The tactic helped boost Audi's worldwide sales 10% last year, to 491,900. "We realized we didn't have the image of a BMW or a Mercedes, but we were priced like we did," Klauss says.
With its brand coming back in fashion, Audi hopes to capitalize on baby boomers' new love affair with European sports cars by launching the TT coupe and TTS roadster in 1999. In keeping with its bare-bones pricing strategy, the hump-backed sports cars will come with a relatively austere sticker price of about $30,000. Such wind-in-your-hair models could help Audi break away from its dependence on northeast and northwest markets, analysts say. "Right now, if the New England economy is in trouble, Audi's in trouble," says Lincoln Merrihew, auto analyst with DRI/McGraw-Hill.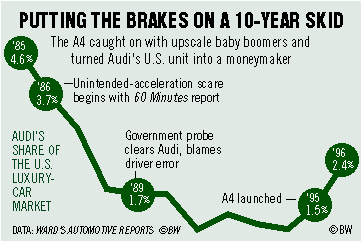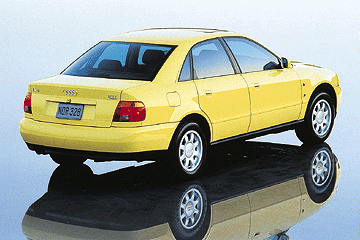 SIXFOLD JUMP. Audi is hot in cold climes because of the "Quattro" feature it offers on most models. Dealers credit Audi's decision to cut the price of the all-wheel-drive option to $1,600, from $9,000, as a key reason for Audi's comeback. Sales of Quattro-equipped models jumped sixfold between 1994 and '96. But the feature will be less of an edge as luxury-car rivals introduce their own all-wheel-drive models--such as the Mercedes M-class due out this fall. "Quattro will be attacked on all sides from the Japanese and Germans," says Merrihew.
That looming competition is likely to keep Audi from ever matching its go-go years of the 1980s, when U.S. sales peaked at 74,000 in 1985. But analysts predict it can double its 1996 sales of 27,379 by 2000. Dealer Roseta, for one, already has enjoyed a fourfold sales increase since 1994. "Now my problem is that I can't get enough cars," he says. That's the kind of acceleration glitch a company doesn't mind so much.
Before it's here, it's on the Bloomberg Terminal.
LEARN MORE