Why Playboy Is Hot Again
by
For 20 years, Playboy magazine has been losing circulation, but guess what? Some argue that Playboy Enterprises (PLA) is back. They are reading positive signals in Playboy, and its stock appears to have awakened from a deep slumber. From a low of 9 in mid-January, it has since climbed to 14--not too far from its 52-week high of 16.
Here's why. The other side of Playboy--its programming for the Playboy Channel--is growing fast, using the Playboy name to become the leading supplier of adult entertainment.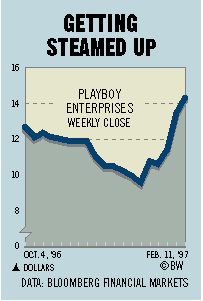 Analyst Dennis McAlpine of Josephthal, Lyon & Ross says distribution of the Playboy Channel has been expanding as cable systems add channels. In the quarter ended Dec. 31, the number of cable-TV homes with the Playboy Channel available as a pay-per-view channel increased by 200,000, to 11.2 million. More important, says McAlpine, homes with access to the Playboy Channel on a 24-hour basis have jumped by 400,000, to 4.5 million, or 40% of all homes that have access to Playboy program. Of the 70 million homes wired for cable, 11 million have access to the Playboy Channel. Also a rich source of growth: direct-broadcast satellite systems. McAlpine expects income from electronic media to grow from $9 million in 1996 to $13 million in 1997 and to $20 million in 1998.
For all of Playboy, McAlpine foresees operating earnings jumping from $1.79 a share in the year ended June 30, 1996, to $2.15 in 1997 and to $2.75 in 1998. The stock, he figures, should hit 20 this year.
Before it's here, it's on the Bloomberg Terminal.
LEARN MORE