Saks: A Big Sale May Be Just Ahead
by
Bahrain's Investcorp International likes to buy assets cheap and sell them later at hefty prices. In 1990, Investcorp bought retailer Saks Holdings (SKS) from BAT Industries. Last May, it took Saks public at 25 a share--but it kept control of 63% of Saks stock.
To be sure, Saks isn't a buyout candidate--yet. But some insiders argue it might be around the corner. "For market players with that investment goal in mind, this is the time to buy," says one corporate insider. One hedge-fund manager agrees: "Saks is growing fast and producing unusually strong numbers."
The stock, now at 31, is down from its high of 40 in October. Saks even slumped to 26 in late December when retailing stocks got slammed. Some smart-money investors lost no time snapping up shares. Many of those who bought already had shares in Saks, which owns Saks Fifth Avenue department stores. Their reason to buy: They see Saks as a growth stock that may be up for sale before long.
Putnam Investments took on 400,000 additional shares for a total of 1.4 million shares. Also high on Saks: Wellington Management, which owns 3.2 million shares, and Fidelity Investments, which holds 1.7 million shares.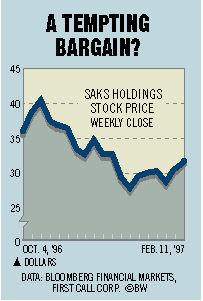 Analyst Daniel Barry notes that Investcorp has turned around such retailers as Gucci Group and Tiffany. Saks management, he says, has repositioned the company for major revitalization and expansion. Since 1991, margins have expanded from 3.7% of sales to 9.3% in 1996. There's room for further progress, he adds. Same-store sales have improved dramatically from a decline of 1.9% in 1990 to a gain of 10.5% in 1996--one of the best among major retailers. Saks, which has 83 stores, is expanding mainly in California, Florida, New York, and Texas. This expansion will add 13% more selling space in two years, says Barry.
Janet Gardiner, a partner at Denver Investment Advisors, which manages $10 billion, says Saks's expansion is showing up in "very strong earnings and revenue growth." One big strategic plus for Saks, she says, is its likely acquisition of Barney's New York, which filed for bankruptcy protection last year. Barney's operates 13 upscale department stores. "It will give Saks a chance to grow further in the U.S. as well as abroad," says Gardiner.
Before it's here, it's on the Bloomberg Terminal.
LEARN MORE