How G.D. Searle Got Off Its Sickbed
New managers and products gave the drugmaker new life
Ron Stodghill II
For almost a decade, G.D. Searle & Co. was Monsanto Co.'s unloved stepchild. Acquired by the St. Louis chemical maker in 1985, Searle floundered--so much so that when Robert B. Shapiro took over as Monsanto's CEO in April, 1995, he faced sharp pressure from investors to dump the subsidiary. But with few buyers in sight, Shapiro had little choice but to hang on to the troubled drugmaker.
Instead, Shapiro gave the unit three years to shape up--and it looks more and more as if he made the right call. "I had some questions about whether Searle could be competitive," Shapiro says. "But it has definitely become more attractive for us to keep it." Today, Searle is shaping up as Monsanto's most improved asset, thanks to new managers and scientists and a market focus narrowed to a handful of therapeutic fields.
COMATOSE. Already, the moves have helped squeeze new drugs out of Searle's once empty pipeline, and five promising drugs, set to hit the market in the coming three years, are in final testing. Although industry consolidation means Searle could still be sold, the earlier talk of a fire sale has mostly given way to a search for acquisitions or a joint venture to give Searle needed bulk.
For a company that was once written off as moribund, it's a welcome change. The Skokie (Ill.) outfit had for many years come up empty-handed in the labs--causing headaches for Monsanto, which had spent a hefty $2.7 billion for Searle. With few new products, the drug unit racked up several bad quarters in the early 1990s, culminating in a $288 million operating loss in 1992.
But last year, Searle had estimated earnings of $200 million on sales of $2 billion, or 15% of Monsanto's $1.3 billion in earnings and 22% of its $9.2 billion in revenues. Together with the strong performance of such agriculture products as the herbicide Roundup, that helped Monsanto's stock nearly triple, to about 37, in the past two years. "The turnaround at Searle is one of the key underpinnings of our substantial investment in Monsanto," says Thomas R. Malley, a portfolio manager at Janus Capital Corp., which owns more than 8 million shares.
This is not to say that Searle's problems are over. The company still lacks the broad product line and scale of such rivals as Merck, Johnson & Johnson, and Glaxo Wellcome--critical in a consolidating industry. And years of skimpy investment have saddled Monsanto with big R&D bills to make Searle competitive.
The longtime head of NutraSweet Co., Monsanto's artificial-sweetener unit, Shapiro became Monsanto's president and chief operating officer in 1993. When he stepped up to the CEO's job in 1995, Shapiro began to refocus the diversified chemical company into a business driven by agricultural chemicals, biotechnology, food additives, and pharmaceuticals. He sold Monsanto's plastics business to Bayer AG for $580 million in December, 1995, while the planned spin-off of most of its $3 billion chemical unit should take place later this year.
Still, when Shapiro started cleaning house, the biggest problem he found was Searle. Other than Calan SR, a blockbuster hypertension drug licensed from Knoll Pharmaceutical Co., little of value had emerged from Searle in more than two decades. That left it dependent on one major product, a few off-patent drugs, and virtually nothing of promise under development. The result: When Calan SR's patent ran out in 1992, an onslaught of generic competition sent Searle's revenues tumbling 11.1%, to $1.23 billion. "Most of our critics wrote us off," says Searle CEO Richard U. De Schutter, a 20-year Monsanto veteran who moved to Searle in late 1994 to clean up.
"SHOOT LOSERS." To fix up Searle's labs, Shapiro installed Philip Needleman, chief scientist with the parent company, as head of R&D. Needleman refocused the labs on cardiovascular, anti-inflammatory, and oncology drugs, eliminating any projects that didn't fit. "You've got to shoot losers in the head early," he says. "So we began killing early and often." But Needleman also persuaded Monsanto to up Searle's research budget to ensure that expiring patents would be replaced with new drugs.
The effects soon kicked in. The increased spending helped Searle quickly roll out two new compounds in 1993 that few had high hopes for: Ambien, an insomnia drug, and Daypro, a once-a- day arthritis treatment. Daypro, with 1996 sales expected to hit $283 million, has replaced Calan SR as Searle's top-selling product. Ambien's sales have jumped to an estimated $280 million, giving it a leading position in the sleep-aid market.
BASIC FLAWS. There's more on the way. Searle's most widely anticipated pharmaceutical, an anti-inflammatory called Celecoxib, is scheduled to hit the market in 1999. It will compete in the $8 billion market for rheumatoid arthritis and osteoporosis treatments. The drug "could be the real gold mine for Searle," says Edward R. Pykon, an analyst at NatWest Securities Corp. in New York.
But if its labs are humming, Searle still struggles with some basic flaws. In 1996, its estimated operating margins were 10%, compared with 25%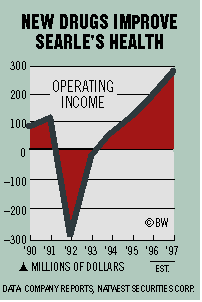 on average for the industry, according to NatWest. Driving the high costs are R&D charges equal to 20% of sales--twice those of rivals--and a legacy of underinvestment. Small size is another problem. In a rapidly consolidating industry, some investors wonder if Searle has the muscle to sustain long-term growth. That means a sale or a merger could still happen, though the timing remains premature. "It might be too soon to sell Searle," says Janus' Malley. "Margins and revenues aren't yet what they can be." If Searle were to go back on the block, analyst Richard R. Stover of Stover & Associates, a Stamford (Conn.) investment research firm specializing in pharmaceuticals, estimates that it could fetch roughly $6.5 billion.
Still, he and other industry analysts believe Monsanto is more likely to search for a joint-venture to add bulk to Searle's product mix and distribution than to sell it off. "Searle would only do a deal that expands the scope of its pharmaceutical business," says Stover. While Monsanto won't comment, De Schutter concedes that Searle must grow. "We definitely face an issue of size and scale," De Schutter says. "We very much have a dealmaking mentality." But for the first time in years, Monsanto is holding a fairly strong hand.
Before it's here, it's on the Bloomberg Terminal.
LEARN MORE