Caution, Sharp Curves Ahead For Nascar
Stock car racing is hot--but with growth come growing pains
Keith Dunnavant
The first heroes of stock car racing were daredevil moonshiners. After running bootleg whiskey all week, they would gather at dirt tracks scattered throughout the South, competing as much for thrills as for the meager prize money. Even long after Bill France Sr. organized a small group of tracks to form the National Association for Stock Car Auto Racing (NASCAR) in 1949, the sport remained tethered to its rural Southern roots, with drivers risking their lives for blue-collar wages.
No more. After decades in the shadows of major sports leagues, the NASCAR Winston Cup circuit has become one of the fastest-growing sports of the 1990s. In the past five years, average attendance has soared 41%, the average purse has more than doubled to $1,606,312, and NASCAR has blasted into the second-highest-rated regular sports series on cable TV. Only the National Football League pulls better numbers.
TEMPLES OF ZOOM. With pedal-to-the-metal growth, however, has come an identity crisis and the bane of pro sports in the '90s: small market vs. vast market. NASCAR has little room to expand its schedule, which runs from February to November, and eventually must choose between glistening new temples of zoom in cities such as St. Louis and tired old tracks like the ones in Martinsville, Va. "Over the next five years, we have a chance to become one of the truly national sports," says H.A. "Humpy" Wheeler, president of Charlotte Motor Speedway, who compares NASCAR's growth to the NFL's in the '60s.
Why all the interest? Most racing executives credit TV. A decade ago, many races were seen only on tape delay, but now all 32 Sunday spectacles are televised live. With as many as six networks and cable channels competing for some events, rights fees have quintupled over the past decade. Last year, CBS Sports signed a deal with the Daytona International Speedway for rights to the Daytona 500 and other events for a reported $80 million over four years. Unlike the major sports leagues, individual track owners negotiate their own deals, so no one network can buy exclusivity to the Winston Cup.
Once limited to an older, blue-collar crowd, the sport's demographics now skew toward young, college-educated, and relatively affluent (an estimated 29% earn more than $50,000), with women making up 38% of the audience. One draw: Amid the increasingly cynical and scandal-weary world of pro sports, NASCAR offers old-time heroes like high school dropout Dale Earnhardt, seven-time Winston Cup champion. "The sport is untarnished," says Neal Pilson, former president of CBS Sports, who represents several tracks. "Nobody's spitting at umpires or kicking cameramen in the groin. There's a civility to NASCAR."
Corporate America, especially tobacco, has long embraced stock car racing, and as ratings and attendance soar, sponsors as diverse as RJR Nabisco, McDonald's, and Procter & Gamble pony up at least $2 million to $5 million to back teams. That broader sponsorship would help NASCAR if the Food & Drug Administration succeeds in its attempt to ban tobacco advertising from auto racing. (Arguments in a suit challenging the FDA were presented in federal court in North Carolina on Feb. 10.) Even Wall Street has validated NASCAR's emergence: In the past two years, two tracks have had successful initial public offerings.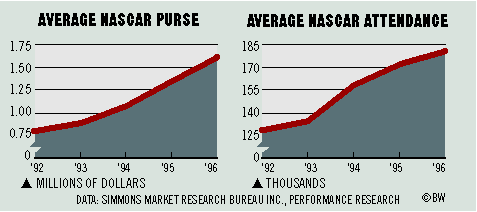 But with growth come growing pains and a dilemma for NASCAR: How to expand without lengthening the season? "You can't stand still," argues Bill France Jr., president of NASCAR and the founder's son. "You either get bigger or smaller, and if we want to continue growing, we have to expand our reach across the country." Sponsors agree. Says T. Wayne Robertson Jr., president of Sports Marketing Enterprises, a division of RJR: "To justify the kind of money we're spending, we need greater access to the big cities."
One solution would be to split the circuit in two, but sponsors and TV nets oppose diluting the product by dividing star drivers between different schedules. "We're on a real power curve right now," warns Charlotte's Wheeler, "and we need to be careful not to improve ourselves out of business."
Before it's here, it's on the Bloomberg Terminal.
LEARN MORE