Brazil: Walking The Tight Money Tightrope
by
Brazil's stop-and-go economy is set to slow again. As in most of Latin America, growth accelerated in 1996 after the Mexican-led recession of 1995. But because of Brazil's strong currency, rapid growth is drawing in imports, ballooning the trade deficit. The government's task in 1997 and 1998 will be to contain the trade gap by limiting domestic demand with tight monetary policy while continuing to implement spending reforms aimed at cutting the government deficit from 4.5% of gross domestic product.
That's risky. First, fiscal reform all but ground to a halt last year, and 1997 will offer only a small window of opportunity before the government begins to refocus policy on the 1998 elections. Plodding progress will try the patience of foreign investors. Second, tight monetary policy will place further stress on the banking system. And third, the combination of fiscal reform and tight money will increase unemployment, which could erode domestic support for the real stabilization plan, the spine of President Fernando Henrique Cardoso's economic policy.
The 1994 plan, which links the Brazilian real to the U.S. dollar, has eliminated hyperinflation and cut price growth to a 46-year low of 10% in 1996, with single digits expected for 1997. However, the current account deficit surged 37% last year, to $24 billion. It was the widest gap in 13 years, mainly reflecting a record trade deficit (chart).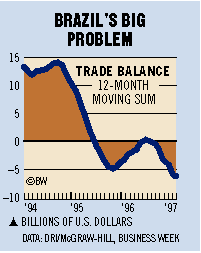 However, Brazil is not Mexico, and the risk to the real is small. The current account deficit is only 3.3% of GDP, and Brazil has $60 billion in international reserves, not all of which is hot money. Foreign direct investment in plants and equipment rose to a record $9.2 billion in '96. Also, the government is willing to limit imports by suppressing domestic demand in '97--most likely with credit controls instead of rate hikes.
Moreover, chances for reform are good, with Cardoso's reelection prospects looking bright. Also, the recent election of Michel Temer to Speaker of the lower house of Parliament gives Cardoso a powerful ally in his efforts.
Before it's here, it's on the Bloomberg Terminal.
LEARN MORE